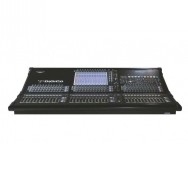 The SD Ten includes many of our flagship SD7's features and benefits, including Stealth Digital Processing and floating-point Super FPGA technology, and provides a fully-loaded feature set that will cater to any front-of-house or monitor engineer's needs.

Scratching the surface

SD Ten features three banks of 12 motorised faders and one master fader, each of which benefits from its own High Resolution LED bar graph meter. In the centre of the worksurface sits the familiar 15-inch backlit colour-keyed TFT touch screen, home of the console's super-intuitive control interface.

The sheer intelligence of the SD Ten means even the most complex of tasks become quick and easy: engineers can recall or save presets on the channel strip; and recall or save snapshots using the master screen or hard wired switches on the console. In addition, special functions can be assigned and accessed instantly via the console's 40 Smart Key Macros (accessible via four layers of 10 RGB backlit keys) at the push of a button. It really is that simple.

What's under the hood?

The SD Ten boasts 96 processing channels (12 of these are Flexi Channels, configurable as either mono or stereo) at 48kHz/96kHz, which is the equivalent of 108 channels of full DSP processing.

Standard channel processing, whether inputs or outputs, includes Channel Delay, Single and Multi Channel Presets, Dual insert points, Hi- and Lo-pass filters @ 24dB/octave, four-band parametric EQ with band curve selection, DiGiCo's DYN 1 (Compressor, De-esser or assignable Multi Channel Compressor) and DYN 2 (Gate, Compressor or Ducker).

The console also benefits from 16 Dynamic EQ processors, all of which can be assigned to any of the input or output channels. These powerful processors offer Dynamic processing on each of the four standard parametric bands, plus there are also 16 assignable Multiband Compressors and 16 assignable DiGiTubes; and no matter how the console is set up, the user won't lose any resources, as all channels are equipped to provide the same high quality signal path and feature set.

The master section incorporates 24 gangable 32-band graphic EQs, 16 stereo effects (selectable from a palette of 33), and 12 control groups (VCAs); and using snapshots, engineers can now switch between complete configurations in any live environment easier than ever before, be it at rehearsals, during system setup, or even at a show.

In addition, we've included 48 busses, all of which are assignable as mono/stereo groups or auxiliary busses; and in addition to these busses, for further configurability, we've provided a 16 x 16 output matrix, dual solo busses, and a Master buss. Essentially, users have the equivalent of 71 busses of DSP at their disposal.

Unlike all other digital console manufacturers, you don't lose Aux or Group Busses when using the Matrix as they are in addition, including the Master buss.

I/O

At the rear of the SD Ten, there is an abundance of local I/O: eight mic inputs, eight line inputs, eight mono AES I/O, two MADI connections with redundant cabling connections; and 16 GPI and GPO connections.

The SD Ten also works seamlessly with the DiGiCo SD-Rack, which delivers up to 192kHz High Resolution analogue conversion. This opens the door to a wealth of interfacing options and provides the user with even further flexibility: when fitted with the optional Optocore interface, up to 14 SD-Racks and five redundant engined consoles can connect to one optical loop, which means a massive 1152 I/O connections are achievable (56 inputs and 56 outputs per SD-Rack).

In short, you could mix the Philharmonic on this comfortably.

There is also a factory fit Optocore option which allows for connectivity to all DiGiCo racks and consoles in a redundant loop.

In addition, there is an optional DiGiCo SoundGrid module which, when linked to an external PC server such as SoundGrid or DiGiGrid, provides the user with instant access to 16 fully integrated low-latency Waves stereo Multi Racks, each with the ability to have up to eight plugins per rack. That's 64 I/O - and as you'd expect from DiGiCo, this is all additional I/O.

All Waves compatible plugins are pre-loaded, and as this is integral within the console, you have the added advantage of touch screen control; and all shapshots and session files are saved within the console.
DigiCo
DiGiCo (UK) Limited brings together the design and development skills that have helped create some of the world's most popular, successful and ground-breaking live sound consoles, with the digital engineering expertise and manufacturing resources of Soundtracs. The company was formed in 2002 to develop the D5 Live digital mixing system, a revolutionary approach to both the live sound console and the way it interfaces with both ends of the audio chain. In basing a console around a powerful DSP engine using proven Soundtracs hardware and software, but with features dedicated to live sound mixing, DiGiCo created the world'??s first truly open-ended console system, for which additional features will be made available in new software versions. This design philosophy ensures your investment in state of the art audio technology today will remain state of the art in the future. The D5 Live from DiGiCo: science dedicated to advancing the art of live sound engineering. Soundtracs was formed in the early 1980s by a group of recording engineers in search of a better studio console than those available at the time. The team'??s success led to two decades of audio innovation and, in 1992, its first development of a digital audio mixing console. In 1996 this program led to the launch of the acclaimed Virtua console, followed a year later by the DPC, in 1998 the DS3 and in 2000 the D4. Since 2000 the company'??s product range has been based entirely on digital audio. Along the way a host of new technologies has been introduced, including the first use by a console manufacturer of the revolutionary Sharc DSP from Analog Devices, a faster, more efficient processor than any then on the market, the first (and still the most comprehensive) use of multiple TFT LCD touchscreens, a pioneer in the use of a 96kHz sample rate, and the first to run multiple sample rates simultaneously. This is just some of the experience that has gone into creating the D1 Live digital mixing system, the latest innovation from one of the pioneers of professional digital audio.
Used Digital Mixing Consoles
Audio mixers, or sound consoles, are electronic sound mixing boards used to combine two or more audio signals, before directing them to the output channels connected to the device. Sound consoles do a great deal more than just combining different audio signals they allow users to optimize the sound output in a number of ways adjusting various sound levels, enhancing sound with special effects and equalization etc, allowing for unmatched control over the end product.
SD10 - Brand new SD10, from 2014 includes Digi-Rack.
SD10 - SD10 in excellent condition includes the latest SW and Waves SoundGrid expansion.
SD10 - SD10 with (1) Madi Rack, and flight case in mint condition. Previously used as a demo unit.
SD10 - SD10 with flight case in mint condition, from 2015. Previously used as a demo unit.
SD10 - SD10 with flight case in mint condition. Previously used on demos.
SD10 - SD10 with flight case in mint condition, previously used as a demo unit.
SD10 - Like New SD10, from 2013.
SD10 - SD10 with flight case in mint condition. Previously used as a demo.
SD10 - Corporate used SD10 with flight case and (1) Madi Rack in great condition.
SD10 - Brand new SD10 Optocore Desk from 2014.