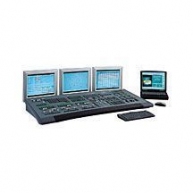 Sabre controls up to 252 Moving Lights and 1024 channels. There are 6 output ports for DMX512 and proprietary protocols. Easy moving light and channel management with the Patch menus. An extensive System Device Pool contains 36 popular intelligent fixtures. No need to load the Device Pool each time you power up, it's always there for you. New Device definitions can be recorded and loaded from the hard disk or floppy diskettes. Sabre's Effects Package has many pre-programmed effects. Quick Effects programming with the Effects Editor.

The Numeric Soft Keys (NSK) offer direct access to Effect Templates, Palettes, Macros, and Snaps. NSK Group mode and Spot mode for quick selections. Eight banked wheels for Dimmer and moving light parameter control. Trackball, wheels, and joystick for pan and tilt.

Internal SMPTE, MIDI In/Out/Thru and MIDI Show Control, and Ethernet support.
Compulite
Compulite is both a pioneer and innovator in its field, serving lighting professionals in the Entertainment Technology industry for almost 3 decades. Focusing on the development and manufacture of high quality lighting control equipment, Compulite has repeatedly redefined the language and tools lighting designers and programmers use, to bring their creativity to life. Compulite's emphasis is not only on superior quality and innovation, but also high customer responsiveness with minimal response time. Through continuous interaction with customers, accumulation of ideas and needs, Compulite has become and will remain, a well-recognized industry leader. Compulite is a privately owned company established in 1978.
Used Lighting Consoles
Find used lighting consoles and lighting desks in well maintained condition from such popular brands as MA Lighting, High End Systems, Avolites, Jands and Martin Professional. All used lighting consoles come with warranty and many have been certified by factory technicians. Solaris sells and buys secondhand and used lighting consoles desks for touring production, churches, theaters, film, television and more. If you do not find what you are looking for give us a call.
Sabre - Sabre in great condition.