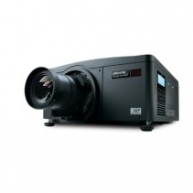 This award-winning, dual mercury lamp DLP projector provides the high-performance and feature-rich standards you expect in all Christie products. This projector is the most compact in its class, with embedded warping, blending and color matching capabilities that give you even more installation flexibility. The Roadster WU14K-M also ships equipped with more input cards than other M Series models, and a stacking frame.



Technology3-chip DLP
Resolution1920 x 1200 WUXGA
Brightness14,000 center lumens
ContrastUp to 2,500:1
IlluminationDual 450W NSH
Lamp life1,250 hours, up to 1,500 in eco mode
Height10.2" (259 mm)
Width19.7" (500 mm)
Length22.1" (561 mm)
Weight55 lbs (25 kg)


The Christie Roadster WU14K-M, offers high efficiency and low cost of ownership. It draws a maximum power of 1500W (at 110V), giving you full brightness with two lamps instead of four.

Features

WUXGA resolution (1920 x 1200)
14,000 center lumens
Variable contrast ratio of 2500:1 (full on/ off) / 650:1 ANSI for crisp, detailed images
At maximum brightness this projector draws 1500W at 110V
Smallest chassis in its class
Dual mercury lamps (450W)
Comprehensive Color Adjustment (CCA)
Embedded Christie Twist image warping and edge-blending
Dust-sealed engine, filter-free design
Intelligent Lens System (ILS) for zoom, focus, horizontal and vertical offset
Multiwindowing and screen processing (up to a 3x3 array)
Motorized yellow notch filter
3D capable model available in the Mirage Series
3D upgradable
AutoDesk Revit model
24/7 operation
Christies 3-chip DLP projectors are 2D and 3D capable. The Christie Roadster WU14K-M is available as a 3D display solution or it can be upgraded from its existing 2D display technology to include 3D capabilities. Christie is the first to offer an upgrade path for its 3-chip DLP projectors with the Mirage advanced 3D functionality.

All this, combined with a three year warranty and our industry-leading service and support means the M Series gives you high performance and peace of mind.
Christie Digital
Christie a global visual technologies company, offers diverse solutions for business, entertainment, and industry. With expertise in film projection since 1929 and professional projection systems since 1979, we've established a reputation as the worlds single source manufacturer of a variety of display technologies and solutions for cinema, large audience environments, control rooms, business presentations, training facilities, 3D and virtual reality, simulation, education, media and government. As a market leader, Christie has installed over 100,000 projection solutions worldwide. Christie technologies Christies broad range of technologies include DLP Cinema projectors, LCD and DLP projectors, rear screen projection modules, video walls, and cutting edge projection technologies for 3D, virtual reality and simulation. Whatever the application, our solutions are purpose-built to meet unique projection requirements, and are backed by industry-leading service and support ensuring complete customer satisfaction. Global organizations use Christie's visual solutions Many of the worlds most demanding organizations rely on Christie for their display solutions, including AMC Theaters, AT&T Global Network Operations Center, Boeing, Buckhead Community Church (Atlanta, Georgia), Carlton Screen Advertising (UK), Cinemark, China Film Group, Dallas Police, Connecticut Light & Power, Deluxe, Deutsche Telekom, First Baptist Church of Orlando, Georgetown University, General Motors, Harrods', Industrial Light & Magic, Italian Army, Italian Railways, Japans National Institute for Fusion Science, Microsoft, Loews, Montreal Police, Paramount Parks Star Trek Borg Invasion 4D, Pixar Animation Studios, Regal CineMedia Corp., Scripps Network, Shell, Shenzhen Telecom, Sinopec (China), Sony Picture Studios, Starbucks, Taiwan Air Force, Toronto Stock Exchange (TSX), Tulane Universitys A.B. Freeman School of Business, University of Illinois, Urbana and Wharton School of Business.
Used Video Projectors
Video projectors such as a digital video projector or an LCD projector are an alternative to regular video screens in that they project images directly onto a screen, rather than projecting the video from behind as a television or monitor does. Video projectors use a lens system and project an extremely bright beam of light onto a screen. Modern video projectors such as a 3 chip DLP projector have are extremely intricate and able to correct inconsistencies in the image such as blurriness and curvature. Video projectors are commonly used in concerts and theatres, and they have many other applications in educational and business settings. They can also be used as part of a home theater system. There are a vast range of different video projectors available. The old CRT projectors are surprisingly still quite widely used, as they are able to project a very large image size, although the bulkiness of the cabinet is not so popular. For professional use in theatres and concerts, the DLP projector is one of the preferred models. DLP video projectors use 1, 2 or 3 Digital Micromirror Devices, called DMDs, which are essentially microfabricated light valves. The 1 chip DLP projector and the 2 chip DLP projector have been known to experience a problem however '?? viewers can sometimes perceive a '??rainbow'?Ě on the projection screen, and so the 3 chip DLP projector is more popular, as this is able to display each primary color in a simultaneous fashion, so the problem doesn'??t occur. The LCD flat panel model is perhaps one of the most popular video projectors for home and business use, as it is both affordable and simple to use. Other video projectors include the LCoS projector, LED projectors, Laser Diode projectors and hybrid LED/Laser Diode projectors.
Roadster WU14K-M - Roadster WU14K-M with flight case in great condition. Previously used on rentals.