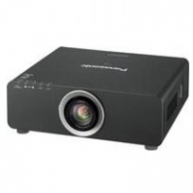 Panasonic PT-DW640UK Projector Specifications

Replacement Lamp Model Number: ET-LAD60A
Brightness:6,000 Lumens
Color Light Output:**
Contrast(Full On/Off):2,000:1
Auto Iris:**
Native Resolution:1280x800
Aspect Ratio:16:10 (WXGA)

Video Modes:720p, 1080i, 1080p/60
1080p/24, 1080p/30, 1080p/50
525i, 525p, 576i
576p, 625i, 625p
1125i, 480p, 480i
Data Modes:**

Digital Inputs:HDMI
HDBaseT:No

Max Power:710 Watts
Voltage:**

Size(inches) (HxWxD):6.9 x 19.6 x 17.3
Weight:35.3 lbs

** item is not applicable, unpublished, or Unknown
Lamp Life(Full Power):2,500 hours
Lamp Type:UHM
Lamp Wattage:280 Watts
Lamp Quantity:2

Display Type:0.7" DLP (1)
Color Wheel Segs:**
Color Wheel Speed:**

Standard Zoom Lens:Powered, 1.30:1
Standard Lens Focus:Powered
Optional Lenses:
Panasonic ET-DLE055 Fixed Focus Lens
Panasonic ET-DLE080 Zoom Lens
Panasonic ET-DLE150 Zoom Lens
Panasonic ET-DLE250 Zoom Lens
Panasonic ET-DLE350 Zoom Lens
Panasonic ET-DLE450 Zoom Lens
Lens Shift:Horz & Vert

Throw Dist (feet): 8.4 - 78.0
Image Size(inches):50.0 - 600.0

Audible Noise:**

Speakers:No
Digital Zoom:**
Digital Keystone:Vertical

Special Features: RS232 Port, Wired Networking, DICOM, Crestron RoomView, Edge Blending
Comments: The RGB Booster ensures vivid, colorful images, and the original Eco Filter eliminates the need for filter replacement for up to 12,000 hours. HDMI and DVI-D digital input terminals.
The Panasonic PT-DW640UK is manufactured by Panasonic.
Panasonic
Used Video Projectors
Video projectors such as a digital video projector or an LCD projector are an alternative to regular video screens in that they project images directly onto a screen, rather than projecting the video from behind as a television or monitor does. Video projectors use a lens system and project an extremely bright beam of light onto a screen. Modern video projectors such as a 3 chip DLP projector have are extremely intricate and able to correct inconsistencies in the image such as blurriness and curvature. Video projectors are commonly used in concerts and theatres, and they have many other applications in educational and business settings. They can also be used as part of a home theater system. There are a vast range of different video projectors available. The old CRT projectors are surprisingly still quite widely used, as they are able to project a very large image size, although the bulkiness of the cabinet is not so popular. For professional use in theatres and concerts, the DLP projector is one of the preferred models. DLP video projectors use 1, 2 or 3 Digital Micromirror Devices, called DMDs, which are essentially microfabricated light valves. The 1 chip DLP projector and the 2 chip DLP projector have been known to experience a problem however '?? viewers can sometimes perceive a '??rainbow'?Ě on the projection screen, and so the 3 chip DLP projector is more popular, as this is able to display each primary color in a simultaneous fashion, so the problem doesn'??t occur. The LCD flat panel model is perhaps one of the most popular video projectors for home and business use, as it is both affordable and simple to use. Other video projectors include the LCoS projector, LED projectors, Laser Diode projectors and hybrid LED/Laser Diode projectors.
PT-DW640UK - Brand new PT-DW640UK, from 2014 in original factory cardboard.