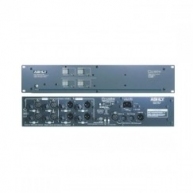 The 4.24GS allows for the installation of multiple channel graphic Equalizers where tamperproof, sound shaping equalization is required. Control and programming of the 4.24GS is easily achieved from the 4.24G Main Unit, 4.24RD Remote Control, through the use of Ashly's exclusive Protea System Software running on a PC, or by a MIDI controller. The Protea 4.24GS is housed in an all-steel, 2RU chassis, and has two independent channels of fully programmable 28-band graphic EQ with with limiter, high- and low-pass filter, and time delay functions.

Each channel allows for 28 bands of 1/3-octave, ISO centered, constant Q filters, ranging from 31Hz to 16kHz. High and low pass filters are 24dB/octave adjustable from 20Hz to 10.6kHz and 33Hz to 20kHz, respectively. Time delay is adjustable up to 1.364 seconds.

Other features include 24-bit A/D-D/A conversion, 24-bit/100MHz digital processing, RS-232, and MIDI interface, linkable channels, +6dB/-infinity master gain, and 128 preset locations. The 4.24GS displays individual channel numbers with 7-segment displays. Discrete LEDs indicate signal present and signal clip levels. Rear-panel connections include balanced XLR and 1/4" ins/outs for each channel, RS-232, MIDI In, Out/Thru, and Ashly's exclusive digital Remote Control protocol via two standard XLR connectors.
Ashly Audio
With over a thirty year history, Ashly Audio Inc. is recognized as a world leader in the design and manufacturing of quality signal processing equipment and power amplification for use in the commercial sound contracting and professional audio markets. Our philosophy established from the very beginning is to offer only the highest quality audio products to the professional user.
Used Equalizers
Equalizers are used in sound recording to equalize the balance between an electronic signalâ??s frequency components, by boosting or cutting the energy of specified frequency bands. Audio equalization is most widely used in sound recording, although it has many other applications beside that of the recording studio. There are a number of different types of Equalizers used in music recording. For example, a simple bass control (or low shelf), is able to adjust the gain of low frequency audio signals, without impacting on other frequencies. High self Equalizers (like a treble) on the other hand, are used to adjust high frequency audio signals only. Parametric Equalizers offers a far greater range of audio equalization functions however. These types of Equalizers are able to make three specific adjustments, something that makes them incredibly versatile. They can be used first of all to adjust the center frequency, and then they can be used to adjust the Q Factor in order to determine how sharp the bandwidth is. Finally, they can also be used to adjust the gain control in order to determine how much a frequency is boosted or cut in relation to frequencies above or below the selected center frequency range. A Graphic Dynamic Equalizer is similar to a Parametric Equalizer, except that these Equalizers are designed to be much more user-friendly. However, they are also less flexible than Parametric Equalizers. Graphic Equalizers employ a bank of filters to cover as many as 30 different frequency bands in the audio spectrum, depending on the model. The center frequency and Q Factor on Graphic Equalizers is fixed, but the level of these can be adjusted.