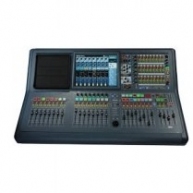 The PRO2C is designed to work in conjunction with any of the Midas digital I/O units. Each PRO2 Touring Package ships complete with a Midas DL251 stage box, providing 48 Midas mic/line inputs, and 16 analogue XLR outputs on stage, in addition to the PRO2Cs 8 mic/line inputs and 16 XLR analogue outputs on the back of the console itself. Two AES3 inputs, three AES3 outputs and dual-redundant Power Supplies, all supplied as standard, complete the hardware configuration.

PRO2C is easy to configure and operate and is identical to the PRO2 apart from having 8 fewer input faders. Engineers who are new to Midas digital can relax, enjoy the PRO2Cs sample-synchronous audio quality, and mix from well within their comfort zone. Engineers already familiar with Midas can just load their existing show file straight into the PRO2C, regardless of which Midas digital console it was created on, and carry on working.

In addition to the PRO2Cs 56 primary input channels, PRO2C also features 8 aux returns, all of which feature 4-band Midas parametric EQ and insert points. These 8 aux returns can be used as returns for the PRO2Cs internal FX processors, or as additional mic channels, if sufficient mic inputs are available on the I/O hardware.

A total of 64 input channels have routing to 27 phase-coherent mix buses, which comprise 16 user-configurable buses (which can be mixes, subgroups or mix minus groups), and 8 matrix buses. The matrix buses source from inputs, as well as groups, and so can be used as 8 additional auxes (monitor mix and FX sends) which provides a total of 24 mixes (plus L, R & Mono) for monitor mixing duties. All buses can be linked as stereo pairs (except the mono bus).

As with all Midas digital consoles, the audio paths can be routed to multiple destinations and the console format can be reconfigured live on a scene-by-scene basis.
Midas
Midas has been designing and manufacturing live performance mixing consoles for the worldâ??s most demanding sound engineers, performers and production rental companies since the early 1970s. The evolution of Midas consoles throughout the 30-year history of this classic marque has always paralleled, and often led, increasingly sophisticated audio innovations for the world-wide entertainment technology industry. Raising the standards of sonic quality through continual research and development has always been - and still remains - our overall aim. Equally important to us is the design and implementation of many new areas of control functionality and user-friendly desk operation to anticipate and accommodate the rapidly changing and expanding needs of audio professionals who specify Midas consoles for their major tours, festivals, international events, broadcast projects and prestigious fixed installations. The Midas design pedigree has, since our birth, been founded upon a track record of achieving a unique symbiosis with working sound engineers around the planet - engineers who respect and endorse our proven technology in the light of their responsibilities to their internationally-based clients who are themselves the leading lights of our industry.
Used Digital Mixing Consoles
Audio mixers, or sound consoles, are electronic sound mixing boards used to combine two or more audio signals, before directing them to the output channels connected to the device. Sound consoles do a great deal more than just combining different audio signals they allow users to optimize the sound output in a number of ways adjusting various sound levels, enhancing sound with special effects and equalization etc, allowing for unmatched control over the end product.