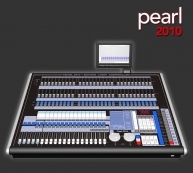 The Pearl 2010 sees Avolites introduce a new contemporary streamlined look for its global bestselling console. This will include new graphics and an ergonomically curved front and back, complimenting the physical aesthetics of the Pearl Expert and Pearl Tiger consoles

The Pearl 2010 is a cosmetically updated Pearl 2008 with the addition of USB memory, giving storage for the complete set of personality files as well as multiple show files.

The Pearl 2010 combines compact dimensions with plenty of power, offering full moving light control for up to 240 intelligent fixtures. As with all Avolites consoles, the Pearl is designed for quick and easy programming and playback. The patching of Moving Lights and colour changers is also as simple as patching a dimmer.

Preset Focus Palettes provide fast building blocks for functions such as pan, tilt, colour, gobo, etc.
All memories and chases built from preset focuses are automatically updated once the preset focus is edited.
Preset Focuses allow you to create and save your own custom palette of colours.

Channels can be allocated as HTP or LTP for control of dimmers, colour changers or multi-channel fixtures, all of which can be patched with one button press.

The Pearl 2010 retains the intuitive and familiar feel of the "roller", use of high quality Faders, Schadow switches and legendary reliability of Avolites consoles.
Specification
bulletInternal Flash Drive, similar in functionality to a hard disk but faster and more rugged. Provides enough storage for:-
bulletThe entire Fixture Library of more than 3,000 files
bulletOver a hundred show files.
bulletRemovable external Memory Stick.
bulletCache the entire Fixture library of more than 3,000 files
bulletImproved method of Fixture selection for Patching
bulletNew Locate Fixture button
bulletFixture Selects (selecting the top row of faders)
bullet2048 Channels.
bullet240 Intelligent Fixtures.
bullet240 Dimmer Control Channels.
bulletTheatrical Plotting and Playback functions.
bulletShape Generator for instant creation of patterns and effects.
bullet15 Playback Masters controlling 450 memories, chases or cue lists.
bulletMIDI and Bass, Mid, Treble sound to light triggers.
bulletColour VGA output fitted as standard.
bulletFront panel now reverse printed Poly Carbonate Laminate using technology from the Diamond 4, this is incredibly hard wearing and looks excellent.
bulletEach console individually has an electronic serial number, linked to physically engraved metalwork numbering making reselling of stolen consoles more difficult.
bulletSupplied with PC applications: Avolites Visualiser, Pearl Simulation program and Cache Builder.
Avolites
olites are dedicated to producing the very best control solutions for all aspects of the professional lighting industry. The company has focused on, listened to and built upon end-user feedback which has allowed continual development and evolution of the product range. Avolites equipment utilises cutting-edge technology whilst retaining the accessible, intuitive, hands-on familiarity for which Avolites' products have become popular and renowned. Avolites also believe 'the people' part of the equation is vital in ensuring their position as market leader is maintained. The company comprises a creative, motivated, positive and lateral thinking team of individuals who will ensure a successful and progressive future for the company.
Used Lighting Consoles
Find used lighting consoles and lighting desks in well maintained condition from such popular brands as MA Lighting, High End Systems, Avolites, Jands and Martin Professional. All used lighting consoles come with warranty and many have been certified by factory technicians. Solaris sells and buys secondhand and used lighting consoles desks for touring production, churches, theaters, film, television and more. If you do not find what you are looking for give us a call.
Pearl 2010 - Used on various tours. Comes with a 15 day warranty.
Pearl 2010 - This item has been sold