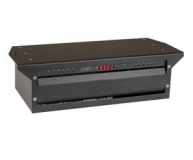 Description
Models 109-000019-00C (XLRs, Pipe Mount), 109-000019-01C (Terminal Blocks, Pipe Mount), 109-000019-02C (XLRs, Rack Mount), 109-000019-03C (Terminal Blocks, Rack Mount). -Choose from the options above. -

City Theatrical's PDS-750 TR? is a touring-style power/data supply for Color Kinetics ColorBlast, ColorBurst, and iColor Cove intelligent solid-state lighting fixtures. The compact, rugged device allows easy connection and disconnection of up to 12 ColorBlast 12 fixtures, 24 ColorBlast 6 fixtures, 24 ColorBurst 6 fixtures, 48 ColorBurst 4 fixtures, and 96 iColor Cove fixtures by means of industry-standard 4 pin XLR connectors.

The PDS-750 TR? includes a "mini-Zapi"? function, which enables users to address all fixtures plugged into the power/data supply to channel one, thereby allowing a starting DMX channel to be set via standard BCD switches. Built-in dimming routines allow user selectable fades to be accomplished without the need for a lighting console, making PDS-750 TR? perfect for events and other temporary installations. A pass through mode allows iColor Cove fixtures to be operated. Rack mount, pipe mount, and custom output configurations are available.
City Theatrical
City Theatrical is a manufacturer of unique lighting accessories for the entertainment industry. Our products are found on shows, in installations all over the U.S., and around the world. We have an interesting and exciting work environment encompassing product development, manufacturing, engineering, and sales. We enjoy inventing and making things as well as selling them, and we have considerable lighting experience.
Used LED Power Supplies
PDs-750 TR - Power supply is in great working condition.
PDs-750 TR - From installation. In good working order.