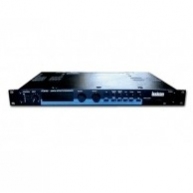 The Lexicon PCM80 is the successor to the highly popular PCM70. Featuring many of the same algorithms and as well as new variations, the PCM80 has become a fixture in studios around the world. I originally purchased the PCM80 for use as my main reverb, but I soon found myself using it for modulated delays, panning, and MIDI-clocked arpeggiated pitch shifting.
Lexicon
Founded in 1971, Lexicon has become one of the world's premier manufacturers of home theater and professional electronics. Innovative technologies, such as LOGIC 7, have helped Lexicon to push the boundaries of home entertainment. Lexicon audio systems are now available in the Rolls Royce Phantom, and LOGIC 7 in models from BMW, Mercedes and Land Rover. Lexicon is a division of Harman Specialty Group.
Used Amp Rack Units
Find used audio amps and amplifiers by top manufacturers such as Lab Gruppen, Crown, Crest, Powersoft and more. All products come with warranties and are tested before shipping to you. Solaris sells and buys secondhand and used amplifiers for installations, concerts, churches, events and all types of entertainment production. If you do not find what you are looking for give us a call and we will quickly find it for you.