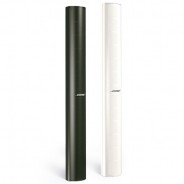 This 300W loudspeaker is designed for use in single and multiple configurations in permanently-installed indoor applications. The slim profile of the Panaray MA12 speaker adds an attractive design element to any installation.

The Panaray MA12 loudspeaker delivers high speech intelligibility and natural sounding music in some of the most acoustically demanding spaces-with little or no acoustic treatment. A vertical line array of twelve 2.25-inch (6.4 cm) drivers provides wide horizontal and narrow vertical pattern control. Bose MA12 loudspeakers reproduce the entire critical vocal range (155Hz-12kHz) with no crossover required. As a result, this loudspeaker is surprisingly efficient, delivering speech with intelligibility and clarity.

Used alone or stacked in multiples, the Panaray MA12 delivers premium sound in an elegantly slim cabinet that practically disappears in houses of worship, auditorium, theaters and concourses.
Bose
Bose Corporation was founded in 1964 by Dr. Amar G. Bose, then professor of electrical engineering at the Massachusetts Institute of Technology. While doing graduate work at MIT in the 1950s, Dr. Bose decided to purchase a new stereo system. He was disappointed to find that speakers with impressive technical specifications failed to reproduce the realism of a live performance.
Used Line Array Speakers
Find used line array speakers and line array elements from such popular brands as L-Acoustics, d&b audiotechnik, Meyer Sound and Nexo. All used line array speakers are warrantied and in most cases inspected by factory certified technicians. Solaris sells and buys secondhand and used line arrays for large concerts, tours, stadiums and auditoriums. Call us if you don't find it and we will find it for you.
Panaray MA12 - Package of (6) Panaray MA12 in good condition, previously used on rentals.