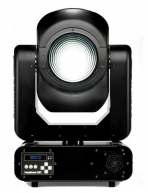 The PanaBeam XR2 has no stops on either pan or tilt. You can send it to any position via longest or shortest path, or spin it continuously. Servo drives make it very smooth, very quiet, and very very fast. Its color system is simply the best - lightning fast bump or slow smooth transitions - the XR2 delivers a wide range of vibrant colors and a red that is really red. Its beam shaping and effects capabilities are unique - transforming the beam into squares or ovals that can index, rotate or animate to creat shimmering liquid or breakup effects.
Morpheus Lights
Morpheus Lights is a full service lighting production company, equipment rental source, and manufacturer of innovative products for the professional market. We provide complete, integrated lighting systems using our inventory of state-of-the-art equipment from industry-leading manufactures, while also offering our own unique products. Our talented technical staff is second to none. Many have been with Morpheus for more than a decade, and this experience and dedication ensures that your production is realized to its fullest potential. We call this combination of great people and equipment The Morpheus Advantage. As a manufacturer, the Morpheus Lights brand has been synonymous with innovation for more than 25 years. From the originalPanaSpot® at the dawn the moving lights era, to the ColorFaderâ?˘ dynamic CYM color changer, to the revolutionary PCSpotâ?˘, and ultimately, to PanaBeamâ?˘XR2+. Morpheus continues to develop and improve specialized products to meet the demanding needs of the high performance lighting market. Morpheusâ?? experience as production services company gives us a distinct advantage in engineering and manufacturing high quality technical equipment thatâ??s built to withstand the rigors of the road. Our fulltime research and development department designs new products, refines and evolves existing products and creates custom solutions for our touring / production department.
Used Moving Lights
Moving lights, or intelligent lighting as they are sometimes called, are basically a type of stage lighting that is able to move due to its integrated mechanical elements, which go beyond the moving parts that are found in more traditional, non-moving lighting. Automated lighting such as moving lights is highly valued by stage lighting technicians as through them, it is possible to create highly complex special effects that simply cannot be made using standard, non-moveable lights. It should be noted however, that when it comes to intelligent lighting, the real intelligence lies with the programmer of the show, rather than the lighting equipment or any operator. Moving head lights, also called moving head luminaires, are highly versatile lighting instruments capable of performing multiple lighting functions at once. They have largely superseded the use of multiple non-moving lights to create special effects, which required many lights and a large amount of skill on behalf of the operators. Moving lights are hooked up to a lighting control console and send data to it in one of three ways â?? through an Ethernet control (a relatively new technology), analogue control (now almost obsolete), or DMX, (which is now the industry standard). So long as they have been properly programmed, the optics of wiggly lights can be altered in many ways, allowing for the â??personalityâ?ť of the lights to be adapted almost instantaneously, depending on the requirements of the operator. Typically, moving lights will be pre-programmed before a production and controlled using simple commands, although some more experience operators may prefer to control them â??liveâ?ť, if they have the experience to do so.