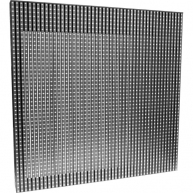 The MVP 12 is a lightweight, tri-color SMD LED modular video panel ideal for high-resolution graphics and live action video.

At 12.5mm, it offers the smallest pixel pitch in the MVP? Series and 13.4 percent transparency which allows lighting and Elements to pass through while maintaining High Resolution and clarity, even at short ranges.

Every panel in the MVP Series is easily interlocked to allow for creative, mixed-resolution displays.
Chauvet
CHAUVET began in the 80s as an OEM distributor and manufacturer from a modest warehouse in North Miami Beach, FL. Today CHAUVET is a major innovator, developer and manufacturer, leading the lighting entertainment market in terms of design, flexibility and options. Our formula is simple: the right products at the right price. Sold through a network of highly professional dealers and distributors, the CHAUVET brand has a global reach built around three core tenets: Value, Innovation, Performance- VIP for short. Professional moving yokes, scanners, wash lights and controllers drive the bulk of CHAUVETs growth. The company also actively pursues new technologies and markets in LED, laser and architectural illumination. Most products are manufactured in Asia. Product design, marketing, technical support, sales, sourcing, quality control, warehousing and shipping are handled in the USA. A passion for lighting and the drive to excel unite an otherwise diverse staff of 50 at the South Florida headquarters. All share the realization that, beyond top-of-the line products, straightforward advice, after-sale service, and support are key to a truly satisfied customer.
Used LED Video Screens
LED Screens are used in concerts to produce a video wall or concert video screen, so that the musicians and performers can be shown close up, and also for displaying background visuals during a performance. This type of visual display system is essentially a large number of LED screens which are tiled together or overlapped in a way so that they produce a much larger screen. Also called a video tile, LED screens will have extremely narrow bezels (the part which surrounds the LED screens), so that the display is not impacted too badly by having large gaps appear between each tile. Many concert planners prefer using LED screens to one large screen as they offer a number of advantages, including a customized layout, greater pixel density and a greater screen area for the cost, as manufacturing unusually large screens can be prohibitively expensive. LED screens use something called light-emitting diodes to illuminate the video screen. Two different types of panel are used in LED screens â?? discrete LEDs and surface mounted panels. Most types of outdoor LED video screen and indoor LED video screen use discrete LEDs, which are made up of a cluster of blue, green and red diodes. This cluster of diodes forms just one pixel in the LED screen, and so many hundreds of diodes are used, with the pixels being spaced out evenly across the entire screen. This combination of color clusters enables every color in the light spectrum to be replicated on LED screens.
MVP 12 - Looked over and maintained by manufacture. (8) packs of (6) MVP 12 available. Priced per pack.