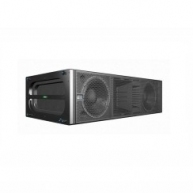 A variation on the popular MILO high-power curvilinear loudspeaker, the MILO 120 high-power expanded coverage curvilinear array loudspeaker excels where wide horizontal and increased vertical coverage are needed.

The self-powered MILO 120 is a compact, lightweight four-way system that provides 120 degrees of horizontal and 20 degrees of vertical coverage. In addition to its expanded coverage pattern, the MILO 120 loudspeaker is optimized for medium to near field applications, making it the perfect downfill complement for standard MILO or M3D line array loudspeaker systems, or in other fill applications that can be satisfied by one or two cabinets. MILO 120 can also be used by itself to form wide coverage arrays or as a single cabinet.
Meyer Sound
Established by John and Helen Meyer in 1979, Meyer Sound has been at the forefront of innovation in audio engineering for over two decades. From the outset, Meyer Sound looked beyond loudspeaker cabinet design to create totally integrated, systems-comprehensive solutions that encompass transducer design, signal processing, power amplification and even electroacoustic measurement systems. As a result, Meyer Sound's engineering teams have earned an enviable reputation for developing unique, innovative solutions to some of the most difficult problems confronting audio professionals. In fact, it is fundamental to John Meyer's philosophy that no component of a system should be compromised in order to compensate for variables "upstream" or "downstream." Instead, the entire system should be conceived, designed, tested, confirmed and manufactured as a whole to provide the optimum blend of audio fidelity, utility and long-term reliability.
Used Line Array Speakers
Find used line array speakers and line array elements from such popular brands as L-Acoustics, d&b audiotechnik, Meyer Sound and Nexo. All used line array speakers are warrantied and in most cases inspected by factory certified technicians. Solaris sells and buys secondhand and used line arrays for large concerts, tours, stadiums and auditoriums. Call us if you don't find it and we will find it for you.
MILO - Complete Milo package with (12) MILO speakers
MILO Package - Package of (10) Milo 90, (2) Milo 120, (8) 700HP, (1) Galileo 616, (2) Top grid, (2) rack veam 12, a...
MILO 120 - MILO 120 with dollies in good condition. Previously used on rentals.
MILO 120 and MILO - 12 MILO & 2 MILO 120 available. 3-1/2 years old. Priced per unit. In excellent condition and weather...
MILO 120 - From installation. Purchased in 2009. Still under warranty.
MILO 120 Package - Complete MILO 120 package. 14 day warranty. Ask about covers and dollies at an additional cost.
Spare MILO Drivers - Set of three unused spare drivers for Meyer MILO Line Array speaker in original packaging.
MILO 120 - Corporate used package of (22) MILO 120s in superb condition.