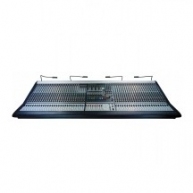 As contractors and venues demand maximum return on investment, dual-purpose FOH and Monitors flexibility is now essential in a live sound console. MH2, the third desk in Soundcraft's acclaimed MH Series, delivers all the critical mixing features of its siblings in a fixed frame format, achieving a performance/price ratio unheard of in any other console in its class.

Group or Aux on fader operation is selected at the touch of a button for familiar and uncomplicated operation. Soundcraft sound quality is guaranteed with the same mic preamp design used in the MH4 and MH3, classic British EQ and meticulous circuit design. And with important new features like separate line inputs on every channel, the argument for mixing with MH2 is compelling.

Four frame sizes are available, all with an integrated switched mode PSU which can be removed for easy maintenance. Naturally, a rear panel connector is provided to fit an external Power Supply for complete dual redundancy assurance.
Soundcraft
Founded in 1973, Soundcraft first made its mark with the launch of the Series 1, the first mixing console in a flightcase. Back in the early 70's, the music touring business was just beginning - and the transportable mixing desk quickly became popular among the bands and the new PA companies that were springing up to rent out sound equipment. From what was then a small company in central London, Soundcraft expanded and started to diversify. The company designed a mixer for recording - the Series 2 - and began to build a reputation for great-sounding desks, which is often referred to as the favoured 'British Sound'. Design and innovation has always been one of Soundcraft's major strengths. Over the years it has introduced a number of industry-favoured consoles such as the Series 4, 2400, TS24, 8000, 200B, 6000, Delta, SAC200 and the Spirit Folio range, and more recently the Series FIVE, FIVE Monitor and Broadway. Today Soundcraft has a network of 88 distributors selling and supporting its products world-wide. Part of the Harman Pro Group, Soundcraft is still very much the dedicated professional mixing console designer and manufacturer it was back in 1973. It now boasts a range of mixers which are designed for use in live sound, recording, post-production, TV and radio production and disco applications. Harman is an international company which comprises a group of dedicated manufacturers of audio equipment spanning professional audio, in-car systems, multimedia and hi-fi consumer products.
Used Analog Mixing Consoles