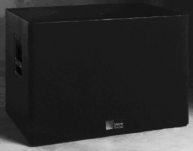 The compact, high-power USW-1
extends the frequency range and power bandwidth of Meyer Sound reinforcement systems to 40Hz. Accurate and rugged, the Subwoofer consists of two 15-inch
cone drivers capable of long excursion with extremely low distortion, housed in a heavily braced five cubic foot vented
enclosure of multiple-ply hardwood. Fitted with handles, the roadworthy cabinet has a durable, textured finish and, optionally, aircraft-style rigging pan fittings
for ease of installation. The USW-1 requires a professional quality
power amplifier capable of delivering up to 400 watts into 4 ohms (this normally corresponds to a 250 watt/8 ohm rating),
with a signal voltage gain of 20 dB (minimum) to 30 dB (maximum).
Meyer Sound
Established by John and Helen Meyer in 1979, Meyer Sound has been at the forefront of innovation in audio engineering for over two decades. From the outset, Meyer Sound looked beyond loudspeaker cabinet design to create totally integrated, systems-comprehensive solutions that encompass transducer design, signal processing, power amplification and even electroacoustic measurement systems. As a result, Meyer Sound's engineering teams have earned an enviable reputation for developing unique, innovative solutions to some of the most difficult problems confronting audio professionals. In fact, it is fundamental to John Meyer's philosophy that no component of a system should be compromised in order to compensate for variables "upstream" or "downstream." Instead, the entire system should be conceived, designed, tested, confirmed and manufactured as a whole to provide the optimum blend of audio fidelity, utility and long-term reliability.
Used Subwoofer
Find used speaker subs and subwoofers from popular brands as JBL, Turbosound, EAW and more. All used speakers we carry are warrantied and in most cases inspected by factory certified technicians. Solaris sells and buys secondhand and used speaker subs for use in churches, clubs, theaters and other large events and shows. Call us if you don't find it and we will find it for you.