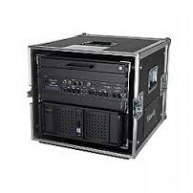 Database Error
Message:
MySQL Query fail: select REGISTERED_MODEL, ID_REG_MODEL, registered_manufacturers.REGISTERED_MANUFACTURER FROM registered_models LEFT JOIN registered_manufacturers ON ( registered_manufacturers.ID_REG_MANUF = registered_models.ID_REG_MANUF ) where REGISTERED_MODEL REGEXP '[[:alnum:]]+' && SEO_EXCLUDE_KEYWORD != 1 && LENGTH(REGISTERED_MODEL) >= 5 order by rand()
MySQL Error:
Error writing file '/var/tmp/MY6Tgx2W' (Errcode: 28 - No space left on device)
Date:
Friday, November 24, 2017 at 10:57:54 PM
Script:
/used/maxedia-broadcast/35675
Utilizing an intuitive touchscreen-optimized user interface, Maxedia? is the most user-friendly tool for media composing and playback in all types of applications. Access a vast library of media clips, still images and integrated animations without the need for a complex lighting controller.
Maxedia Broadcast? is optimized for high definition playback with ultra fast quad core processors, 1080p playback support and two dedicated engine outputs.
Increased requirements for the best picture quality possible place a huge demand on hardware to process the large amount of data. Maxedia Broadcast? contains the fastest hardware available for powerful and smooth playback of High Definition content. Nearly a terrabyte of drive space in a RAID array is available to support even the largest shows. Two powerful graphics cards provide a dedicated user interface plus two engine outputs. Each output can be split over a maximum of three displays for custom wide screen projections, allowing a maximum of six projectors to be connected to Maxedia Broadcast?. Maxedia Broadcast? supports a full pixelmapping engine for CMY and RGB systems.
Powerful playback engine
Maxedia? contains a powerful custom written playback engine for seamless and smooth playback of video files, flash animations and still images. Media can be manipulated in hundreds of ways such as intensity, coloration, color effects, position and rotation as well as many other interesting image effects. Maxedia? allows for overlay of media files in multiple layers, which can interact and blend like in professional photo and video editing programs. Yet Maxedia? does it in real time with no delays, giving endless creative possibilities. Use Maxedia? to ??fix media on the fly by changing the in and out frames, playback speed (with frame blending), tweak a color and add an effect in just a few seconds instead of using hours on re-rendering and recompiling. Maxedia? thinks in 3 dimensions and media can be freely placed in space. 3D objects can be imported and media files can be wrapped around them. Save a composition as a cue and replay it like a fully featured virtual
Video Switcher
. Maxedia? offers cue based playback with blending options and wipes (which can be customized), allowing powerful playback directly from the Maxedia? interface. No lighting console is required to fully enjoy the Maxedia?, and even with a lighting console the Maxedia? only requires a minimal amount of 25+ DMX channels. This makes it an ideal solution for venues that do not want to upgrade their lighting control system in order to add a media server.
One solution for all devices
Maxedia? provides various digital or analog video signals and can drive any form of display device. From plasma screens to projectors and creative LED displays like the LC Series? from
Martin
, Maxedia? delivers crisp and powerful visuals, making the most out of your investment into video and LED technology.
Creative control at your fingertips
With Maxedia? easy, professional lighting looks are only a few screen taps away. Interact with the media and see immediate results. Create media overlays and play with the effects and plug-ins to generate something new every time you operate Maxedia?, even with the same media files. Maxedia? is not a simple
Video Playback
device but a fully featured media composer that encourages creativity. Maxedia? is not bound to the rigid nature of DMX control, and many more parameters and control channels are available than with other
Media Servers
. Some effects have more than 10 different controls! Everything on the programming interface changes to show only the parameters available, eliminating any confusion and guiding the user through the software. Maxedia? is designed around the user experience and not a DMX protocol. This allows for a very fast learning curve. Only a few minutes are needed to be up and running, creating cues and operating the playback instead of reading a lighting console manual. Maxedia? is an ideal content server for video systems as background animations, etc. can be composed quickly and recalled instantly.
Customizable interface
Maxedia? uses a similar look and feel as the award-winning Maxxyz? console from
Martin
. With 16 screen views, Maxedia? offers plenty of options to customize the user interface around the needs of the application. In an installation there could be pages and pages of cues for fast operation. In a fast paced programming session different screen views can be designed to help the programmer navigate the available media and control parameters quickly. Export your layout to a USB device and bring it with you whenever you operate a Maxedia? to create a personalized environment.
Innovative plug-ins
Maxedia? does not try to squeeze hundreds of options into a single parameter. Instead, many effects are provided as separate plug-ins with their own individual control layouts and interactive access. Maxedia? supports several CGI (computer generated imagery) plug-ins that do not even require any media files. Those can be used by themselves or layered with other media files, providing endless options and modifications. Create an ocean of color, rain drops, smoke animations or a colorized plasma animation without ever needing to find the right media file. Animate custom text for messages or lyrics. Every plug-in can be tweaked and manipulated until it's virtually impossible to recognize where it came from. Maxedia? is constantly evolving and plug-ins to the software are added on a regular basis.
Output manipulation
Once a cue is created Maxedia? sends it through a series of output manipulations. It allows color control, keystoning and framing of the playback. Standard and custom masks can be placed over the playback to black out certain areas of a set piece for example. An intuitive blending wizard allows the playback to stretch over multiple projectors, creating a seamless image.
Sound In and Output
Maxedia? supports the playback of video files with embedded audio, including 5.1 surround sound. It also accepts sound input from an external device like a sound or DJ console. The incoming sound can be used for effects and several sound plug-ins are available to visualize the incoming signal on screen or interact with color of the media file.
Video to DMX Maxedia? pixelmapping
Maxedia? offers the ability to control the color of lighting fixtures, making each fixture a single pixel of the video image. Imagine playing a video clip across the faade of a high rise building or having the fire video from your LC Series? extend into hundreds of moving heads. Pixelmapping is a rather technical term for the amazing creative opportunities offered. Take a picture of a lake and use it to make an organic light blue color palette for your lighting system. Maxedia? can create RGB and CMY control by itself or interact with a lighting console to intercept the color information in a DMX stream and exchange it with video information. Consider the stage a canvas and colorize it using the Maxedia? system instead of generic color presets from the lighting console. Play a sunrise video over 20 minutes instead of programming it into a complex list of cues on the controller. Because fixtures are arranged on Maxedia? as they are placed in real life, any video will play correctly over the pixelmap. Maxedia? also allows for the mapping of video input to the pixelmapping, giving perfect synchronization of video with the lighting system. If the layout of the lighting system changes with motorized trusses and stage automation, pixelmaps can be changed manually or over DMX. A variety of matrix plug-ins is available specifically designed for fixture arrays like LEDs. Maxedia? is well suited to control large LED systems for stage, studios, buildings and entertainment venues.
Large media library and integrated media management
Maxedia? ships with five DVDs of media content, containing a wide variety of video files and still images to get you started immediately. All media import is handled by the software and there is no need to navigate the hard drives and operating system. A backup routine is provided to include all custom media files into a large single file for archiving. Media can be imported via USB devices and CD/DVD discs. Multiple Maxedias? can be connected over a network to synchronize all media files and cues from a Master Maxedia? to connected slaves.
Robust hardware, solid software
Custom designed and manually assembled with high performance hardware, Maxedia? is ready for the road. Maxedia PRO? and Maxedia Broadcast? are only sold as a complete system in a custom designed road case. Every Maxedia? is extensively tested and hours of burn-in testing are performed to ensure that all components comply with our high standards. Maxedia? utilizes Windows XP embedded, an industrial Operating System that is fine tuned around the Maxedia? hardware for optimal performance.
Preview your media on any console
Maxedia? contains the public ??CITP protocol for automatic exchange of thumbnails for all media files, effects and plug-ins with a lighting console.
Martin
's Maxxyz? lighting control system supports this technology, and several other lighting console manufacturers have added CITP support.
* Intuitive user interface
* DMX-in via Ethernet (ArtNet) or IO-Box or Universal USB2DMX
* 20 x 3D engine layer
* 2 top layer
* Effect plug-ins
* Pixelmapping / DMX out (ArtNet and DMX 512)
* Video speed control
* Video output configuration: GUI + Out 1 + Out 2