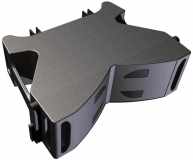 MANTAS is the most recent VLA element designed by Outline (in 2009). Thanks to the great experience accumulated with Butterfly - the Outline system with the same fundamental components and characteristics - MANTAS offers leading edge performance from a cabinet that is extraordinarily compact and light-weight. Its topgrade components - two 8-inch mid-woofers with Neodymium magnets and a 3-inch Compression Driver loaded with the wellknown D.P.R.W.G. - ensure absolutely insignificant distortion levels and greater reliability. MANTAS is a reference Point IN its category (compact VLA) for medium-sized applications, but it was not only conceived as an object in its own right: it has the great advantage of being compatible with Butterfly. In fact, it has the same flying points and can be used along with the Butterfly system (flown below it) as an element able to give wider horizontal coverage (120deg) for FRONT-FILL and DOWN-FILL applications. Numerous rental companies worldwide benefit from the "Butterfly-Mantas" combination to ensure even sound distribution for their audiences, no matter how large they are. The HF section is entrusted to a Compression Driver with a 3" diaphragm loaded with a D.P.R.W.G., already used successfully on the Butterfly system. MANTAS weighs just 24 kilograms (52.9 pounds) and measures 24 x 75.2 x 52.1 cm (9.4 x 29.6 x 20.5 inches), i.e. the same footprint as a Butterfly system (including hardware). MANTAS is used in biamp format. The channels of the amplifiers will power the 8-inch mid woofer (LF-MF section) and the 3-inch Compression Driver (HF section) separately. MANTAS clearly has a good COST:EFFICIENCY RATIO. With just four amplifiers, twelve elements (6+6 in stereo) can be correctly powered: this type of set-up ensures exciting SPL for a large audience. Outline recommends the use of its "T Five" amplifiers and Genius 26 processors (or units with similar characteristics).
Outline
Used Line Array Speakers
Find used line array speakers and line array elements from such popular brands as L-Acoustics, d&b audiotechnik, Meyer Sound and Nexo. All used line array speakers are warrantied and in most cases inspected by factory certified technicians. Solaris sells and buys secondhand and used line arrays for large concerts, tours, stadiums and auditoriums. Call us if you don't find it and we will find it for you.