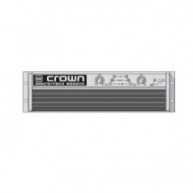 The Macro-Tech 5000VZ is the most advanced amplifier to offer Crown's patented Variable Impedance (VZ) Power Supply technology. New semiconductor technology is combined with superior VZ Power Supplies to
enable the Macro-Tech 5000VZ to pack unprecedented power levels into 5 inches (13.3 cm) of vertical
rack space. And because it is a Macro-Tech, you have the benefit of ODEP protection to keep the show going long after other amplifiers have failed??even under
the most severe conditions.
Crown
Crown international Manufacturer of power amplifiers, microphones, and processing for the professional audio industry.
Used Amp Rack Units
Find used audio amps and amplifiers by top manufacturers such as Lab Gruppen, Crown, Crest, Powersoft and more. All products come with warranties and are tested before shipping to you. Solaris sells and buys secondhand and used amplifiers for installations, concerts, churches, events and all types of entertainment production. If you do not find what you are looking for give us a call and we will quickly find it for you.