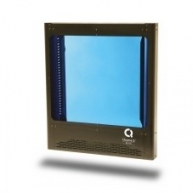 Designed to work with larger fixtures ranging up to 5000W, the Chroma-Q M5 Plus is an improved version of the popular colour changer. New features include digital circuitry to control fan speed, motor scrolling speed, gel saver mode and reset. Four fan settings and two motor scrolling speeds enable optimum adjustment for different environments. The gel saver mode also extends scroll life. Requires additional Power Supply.
Chroma-Q M5 Plus Colour Changer
Key Features

2 - 16 frames
Suitable for fixtures rated up to 5000W
DMX control of fan speed, motor scrolling speed, gel saver mode and reset
4 mode variable fan speed
2 mode variable motor scrolling speed
Gel-saver mode
Power assist colour scroll loading
Fast scrolling access time
Easily accessible working components
Compatible with other Chroma-Q models & accessories
Chroma Q
The new Chroma-Qâ?¢ Plus colour changer builds on the great success of the Original colour changer and adds new, advanced features, while maintaining the affordable price. With over 30,000 units sold worldwide, the Original's industry proven performance and reliability is combined in the Chroma-Qâ?¢ Plus with new electronic features, increased capacity and other enhancements - providing even greater flexibility and usability.
Used Moving Light Accessories
Moving lights or intelligent lighting date back to the early 1900s when pan, tilt and zoom were operated initially by hand and then later on by electrical motors to achieve certain effects. The special and complex lighting effects are created by the programmer, not by the instruments or the lighting operator. Moving light accessories refer to optional parts that may be used with moving lights to perform an additional function or enhance its performance. Moving light cables are important moving light accessories as they are needed to connect lighting fixtures as well as special effects devices. DMX cables connect devices and fixtures that are controlled by DMX, the industry standard protocol for controlling stage lighting and effects. The number of connector pins varies. DMX as well as extension cables also vary in length. Manufacturers of moving light accessories have to comply with strict standards of suitability and quality to ensure that the cables are safe and shielded from transmission interferences. Venues also have strict guidelines regarding the use of safety cables. Another example of moving light accessories is lenses for lighting fixtures. Up to 10 independently controlled lenses and prisms can be used to focus and shape the light beam from lighting fixtures. Like DMX cables, lenses are essential moving light accessories for generating powerful lighting that can make extreme changes of moods and effects.
M5 Plus - M5 Plus in good condition. Previously used on tours.