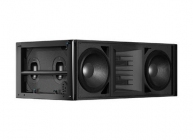 The self-powered M3D features Meyer Sound's state-of-the-art BroadbandQ technology. BroadbandQ marries a new high-frequency manifold system with proprietary, award-winning directional low-frequency technology to precisely control vertical and horizontal coverage between 35 Hz and 18 kHz. The result is truly optimized line array behavior, affording performance that is superior to conventional line array systems.

At high frequencies, Meyer Sound's patented REM ribbon emulation manifold feeds a constant-directivity horn from two Meyer Sound compression drivers. REM controls the drivers' output and introduces it to the horn throat within a 3-inch path length, dramatically minimizing distortion. The M3D horn design produces a coherent wave front that is characteristic of but much more powerful than a large ribbon driver. Vertical coverage is restricted to approximately 10 degrees and interaction minimized, yet distortion remains extremely low.

At the lowest frequencies, two front-facing, long-excursion 15-inch drivers combine to reproduce powerful, coherent bass. A proprietary system of rear-facing low drivers, separately driven by a complex phase manipulation circuit, generates a wave front that interacts with that produced by the front-facing low drivers, affording directional low-frequency output to 35 Hz with a 90-degree polar pattern and 25 dB reduction in sound level behind the cabinet. In the mid frequencies, the integral crossover feeds only one of the two front drivers, eliminating interference that would occur at shorter wavelengths, and maintaining optimal polar and frequency response characteristics.
Meyer Sound
Established by John and Helen Meyer in 1979, Meyer Sound has been at the forefront of innovation in audio engineering for over two decades. From the outset, Meyer Sound looked beyond loudspeaker cabinet design to create totally integrated, systems-comprehensive solutions that encompass transducer design, signal processing, power amplification and even electroacoustic measurement systems. As a result, Meyer Sound's engineering teams have earned an enviable reputation for developing unique, innovative solutions to some of the most difficult problems confronting audio professionals. In fact, it is fundamental to John Meyer's philosophy that no component of a system should be compromised in order to compensate for variables "upstream" or "downstream." Instead, the entire system should be conceived, designed, tested, confirmed and manufactured as a whole to provide the optimum blend of audio fidelity, utility and long-term reliability.
Used Line Array Speakers
Find used line array speakers and line array elements from such popular brands as L-Acoustics, d&b audiotechnik, Meyer Sound and Nexo. All used line array speakers are warrantied and in most cases inspected by factory certified technicians. Solaris sells and buys secondhand and used line arrays for large concerts, tours, stadiums and auditoriums. Call us if you don't find it and we will find it for you.
M3D System - Large M3D system...Great Condition
M3D - Package-(16) M1Ds, (8)-M3Ds, MORE