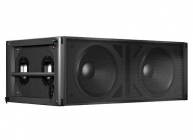 The M3D-Sub Subwoofer supplements M3D line array systems in music reinforcement applications requiring very high power and maximum headroom in the lowest frequencies.

The M3D-Sub features the same physical dimensions as the M3D. M3D-Subs may be flown or ground-stacked, and may also be combined with M3Ds in a single array. The M3D-Sub incorporates the same directional low-frequency technology as the M3D, ensuring a well-controlled cardioid coverage pattern all the way to 30 Hz. A pair of 18-inch drivers is mounted at the front of the cabinet, and works in conjunction with a pair of 15-inch drivers facing the rear and is driven by a sophisticated phase manipulation circuit. The resulting directional pattern assures that very low-frequency energy does not spill onto the stage or cause excessive reverberation.

The M3D-Sub features a high-power, complementary MOSFET amplifier with integrated frequency and phase response correction and driver protection circuits. TruPower Limiting minimizes power compression and protects the driver components from damage due to overload, and Intelligent AC automatically selects the correct operating mains voltage for trouble-free worldwide compatibility.

QuickFly Rigging Hardware, fitted as standard, facilitates constructing rigid, ground-stacked or flown M3D-Sub arrays, and also eases integration of M3D-Subs with M3Ds in unitary full-range, high-power line arrays.
Meyer Sound
Established by John and Helen Meyer in 1979, Meyer Sound has been at the forefront of innovation in audio engineering for over two decades. From the outset, Meyer Sound looked beyond loudspeaker cabinet design to create totally integrated, systems-comprehensive solutions that encompass transducer design, signal processing, power amplification and even electroacoustic measurement systems. As a result, Meyer Sound's engineering teams have earned an enviable reputation for developing unique, innovative solutions to some of the most difficult problems confronting audio professionals. In fact, it is fundamental to John Meyer's philosophy that no component of a system should be compromised in order to compensate for variables "upstream" or "downstream." Instead, the entire system should be conceived, designed, tested, confirmed and manufactured as a whole to provide the optimum blend of audio fidelity, utility and long-term reliability.
Used Line Array Speakers
Find used line array speakers and line array elements from such popular brands as L-Acoustics, d&b audiotechnik, Meyer Sound and Nexo. All used line array speakers are warrantied and in most cases inspected by factory certified technicians. Solaris sells and buys secondhand and used line arrays for large concerts, tours, stadiums and auditoriums. Call us if you don't find it and we will find it for you.
M3D-Sub - M3D-Subs in great condition. Very little use.
M3D-Sub Package - Used on various rentals. Includes (3) dollies and (3) covers.
M3D-Sub - These M3D-Sub are in Excellent Working Order with just a Cosmetic Scratch
M3D-Sub Package - M3D - Sub package.14 day warranty. Ask about covers and dollies at an additional cost.
M3D-Sub - Includes 60 day warranty
M3D-Sub Package - This is a Complete M3D-Sub Package with (6) M3D-Subs, (2) M3D Caster Rails, and (2) Covers.