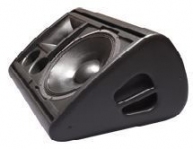 The Martin Audio LE1500 is a compact, high performance stage monitor combining high output and controlled dispersion with discreet, contemporary design. It features a high??specification 15" (380mm) low frequency drive unit and a 1.4" (35mm) exit Compression Driver mounted on a differential dispersion horn. Differential dispersion technology increases the area over which a constant SPL and consistent frequency response is maintained at ear height, enabling the artist to move around more freely.
Driven actively, the LE1500 is best used with the DX1 controller to provide crossover, limiting and EQ functions. When operated in passive mode the LE1500, may be used without a controller, but benefits from the EQ and limiting functions of the DX1. This also ensures that both active and passive configurations will exhibit the same tonal balance when used together on stage.
Martin Audio
Martin Audio was founded in 1971 to manufacture and supply world class touring systems for the supergroups of the day that included Pink Floyd and Supertramp. We are very proud of this heritage. Designing leading edge live performance systems has remained core to our success. Today, Martin Audio enjoys an international reputation for supplying superb performance ready systems across the spectrum of sound reinforcement applications. Our portfolio of products, now highly developed, meet customer requirements for every market sector. Renowned for integrity in design, technical excellence and the longevity of its products, Martin Audio takes system creation into a further dimension. Our aim is for every member of the audience to enjoy an exceptional sonic experience. Martin Audio systems are designed with in-built sound qualities which artists can rely on to faithfully reproduce their performance to every corner of the auditorium.
Used Monitors
Find used speaker monitors and stage monitors from popular brands as L-Acoustics, Turbosound, EAW and Meyer Sound. All used speakers we carry are warrantied and in most cases inspected by factory certified technicians. Solaris sells and buys secondhand and used stage monitors and monitors for use in churches, clubs, theaters and other large events and shows. Call us if you don't find it and we will find it for you.
LE1500 Package - Sold in pairs including 5-star flight cases. From install with light usage.
LE1500 - Package of (16) LE1500 in great condition. Priced per package.