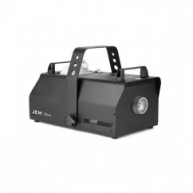 The JEM ZR45 is a high-end fog machine designed to deliver superior and uninterrupted performance in demanding professional applications. Via its enhanced and powerful 2,000 W heat exchanger, the Jem ZR45 produces an exceptional peak output ideal for major venues and stages in both install and rental markets.
The rugged yet weight-optimized Jem ZR45 also features variable output control for more subtle effects and is fully up-to-date with digital remote, DMX and RDM.
The entire JEM ZR range is compatible with a wide range of JEM Pro Fog Fluids. As machines designed and built to last, the JEM ZRs will continue to perform with great output and low consumption.
Martin Professional
Martin is the maker and distributor of entertainment control and intelligent lighting and effects. Martin uses the latest technologies to create these amazing machines for the entertainment industry. Martin is also a maker of high end sound systems known as
Used Foggers and Hazers
Foggers and hazers are used on stage and in concerts in order to produce a smoke or gog-like effect during live performances. A fog machine is not just limited to the entertainment arena however, as it also has some use for military and industrial applications, as well as personal use to their cost coming down. How does a smoke machine work? Typically, foggers and hazers vaporize a mixture of water and glycerine fluid or glycol fluid by atomizing a kind of mineral oil. The vaporized fluid disperses into a thick cloud of artificial fog once it comes into contact with the moisture in the air when itā??s released. Foggers and hazers are most commonly seen in theatrical productions, where they are especially useful for setting the mood or creating the right kind of atmosphere during certain scenes in a play. In addition, foggers and hazers are quite commonly seen in haunted houses and Halloween displays, as the fog generated adds to the creepy atmosphere. Itā??s also become fairly common to see a fog machine during concerts, for example to add to the suspense before the performers come out onto the stage. Nightclubs are another common venue for foggers and hazers, as they are able to enhance laser and other lighting arrangements due to the fogā??s refractive and reflective qualities. However, haze machines are slowly superseding foggers and hazers in nightclubs.