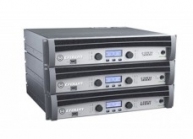 Database Error
Message:
MySQL Query fail: select REGISTERED_MODEL, ID_REG_MODEL, registered_manufacturers.REGISTERED_MANUFACTURER FROM registered_models LEFT JOIN registered_manufacturers ON ( registered_manufacturers.ID_REG_MANUF = registered_models.ID_REG_MANUF ) where REGISTERED_MODEL REGEXP '[[:alnum:]]+' && SEO_EXCLUDE_KEYWORD != 1 && LENGTH(REGISTERED_MODEL) >= 5 order by rand()
MySQL Error:
Error writing file '/var/tmp/MYYxMAEf' (Errcode: 28 - No space left on device)
Date:
Thursday, November 23, 2017 at 1:27:08 PM
Script:
/used/itech-9000-hd/25681
? BSS Omnidrive HD? DSP processing with FIR filters
? LCD screen provides diagnostics and preset selection to ensure fast and easy system and network setup
? Covered by five patents
? Fan has true tach feedback for fan fault protection and precise control over thermal performance, so the amp runs longer and harder than the competition
? Includes SLM (Sweep Load Monitoring) with system-level diagnostics
? Global Power Supply designed to deliver maximum power no matter where your schedule takes you. Universal AC input accepts100-240VAC, 50/60 Hz (15%).
? Front-panel USB connector transfers presets to/from a USB drive to the amp's DSP
? New software interface based on customer feedback manages presets, provides easier system-level changes,
and includes a configuration wizard
? The only product available with analog, AES/EBU, CobraNet, HiQnet and Ethernet connectivity standard
? User definable front-panel security feature
Crown
Crown international Manufacturer of power amplifiers, microphones, and processing for the professional audio industry.
Used Amp Rack Units
Find used audio amps and amplifiers by top manufacturers such as Lab Gruppen, Crown, Crest, Powersoft and more. All products come with warranties and are tested before shipping to you. Solaris sells and buys secondhand and used amplifiers for installations, concerts, churches, events and all types of entertainment production. If you do not find what you are looking for give us a call and we will quickly find it for you.
Database Error
Message:
MySQL Query fail: select MODEL, ID_ITEM, SUBTITLE, DESCRIPTION, QUANTITY,STATUSS from items where STATUSS LIKE '%SOLD%' && PRICE_FINAL_US >0 && QUANTITY >0 && ID_ITEM != 25681 && ID_REG_MODEL = 8614 && LENGTH(SUBTITLE) > 0 && LENGTH(DESCRIPTION) > 0 order by rand()
MySQL Error:
Got error 28 from storage engine
Date:
Thursday, November 23, 2017 at 1:27:08 PM
Script:
/used/itech-9000-hd/25681