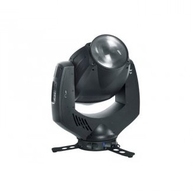 Boasting a 400W RGB LED light engine, and the same groundbreaking technology as the Spot One, the fully-featured luminaire is able to deliver delicate colour changes or instantaneous colour bumps over a wide, carefully-calibrated colour spectrum.

The Impression Wash One offers a 6-60 zoom range but the key differentiator is its innovative 3 narrow beam mode and its unique variable soft-edge beam control that allows softness adjustment. Another attribute is the beam shaping function that enables the user to illuminate only the parts of a stage that need to be lit.

With its baseless yoke the Wash One weighs just 22 kg perfect both for transportation and flexible stage rigging (in any orientation).
GLP
GLP Light Products GmbH was founded in 1994 by Udo Kuenzler. Since then GLP has become the established brand name of high-quality and innovative lights for the professional lighting market. GLP is today one of the leading manufacturers of high-class lighting technology with a focus on quality and affordability. Our technology is driven by a constant dialogue with our customers to ensure a level of product innovation that exceeds expectations. GLP Products are used in many different applications within the entertainment and architectural market segments. Television, touring, exhibitions, night clubs and commercial shops are just some of the areas of application where our products shine. Our lights are renowned for their quality, reliability and design - as are our range of lighting controllers. All GLP products are developed through the passion and customer focus of our engineering development team based at the headquarters in southern Germany. We manufacture our lights and controllers at several production sites in and outside the EU. The manufacturing sites go through arduous testing periods before they are ramped up for production, and an intensive quality control by German engineers is carried out at every site to ensure the highest level of quality and reliability. GLP - German Light Products GmbH Im Stöckmädle 13 76307 Karlsbad Germany
Used LED Lighting
LED lighting is a specialized kind of stage lighting which is highly valued by technicians due to its high light output and low power consumption. Used as an alternative to traditional stage lighting such as halogen lamps, LED stage lighting is a more than capable alternative for just about any kind of application, although it is primarily used for lighting cycloramas, and for side, back and top lighting. In addition to these uses, LED lighting can be used to â??blind the audienceâ?, a nice special effect which involves briefly exposing the audience to a direct light beam from the LED stage lighting at crucial moments of the concert or show. LED wash lights are also great for applying a technique known as â??wall washingâ?, thanks to the high intensity of their light beam. LED wash lights can provide the full spectrum of light colors, despite usually only being fitted with green, blue and red LEDs. The operator simply needs to adjust the intensity of the various colored beams of light, manipulating them to achieve the desired color spectrum. LED lighting is provided by three pieces of equipment. The most common are LED Pars, which imitate traditional stage lights and have a number of LEDs mounted onto them. Striplights, which are basically a long length of LED wash lights, are also very common, while the versatility of moving LED lights is also becoming an increasingly preferred option for many stage lighting technicians. Besides its higher light output and lower power consumption, LED lighting has a number of other advantages. One is that they have an exceptionally high heat tolerance, which means they can be used almost anywhere without worrying about them becoming damaged due to overheating. Another advantage of LED lighting is that it has a much longer shelf life than traditional lighting.