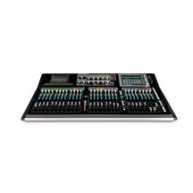 GLD-112 is a larger version of the popular GLD-80 mixer, with an extra bank of 8 control strips, increasing the channel count to 28 fader strips in 4 layers.

GLD is a user-friendly, cost effective and scalable live digital mixing system, conceptually based on the hugely successful digital iLive series. Plug n play I/O expanders make it easy to build systems with up to 48 inputs, supported by a full suite of apps, software and personal monitoring solutions.

GLD-112 provides 48 input processing channels, 8 stereo FX returns fed by our acclaimed FX emulations, 30 configurable buses, 20 mix processing channels, and DSP power to provide full processing without compromise.

Now available in a new GLD Chrome Edition, with sleek new styling, Automatic Mic Mixing, new embedded plugin FX and new compressor models on all channels.

GLD-112 has an analogue-style channel processing control section complemented by a graphical 8.4 inch touch screen. A fully-customisable drag n drop layout allows quick and easy assignment of inputs and mixes to fader strips. There are 28 fader strips in 4 layers, each with motorised fader, a channel LCD display which can be named and colour-coded, plus a rotary control for direct access to gain, pan and aux/FX sends. The mixers local I/O comprises 4 XLR mic/line inputs, 4 XLR line outs, 4 RCA inputs, 2 RCA outputs, and digital outputs in SPDIF and AES3 formats.


Allen and Heath
We've built a lot of mixers in the last 35 years or so (over 160,000 at the last count) and we still get a huge buzz out of doing it well. It's an unbeatable feeling to know that at any time of day or night, right across the globe, there is an Allen & Heath mixer out there working hard, sounding great and making life a little easier for the guy at the controls.
Used Digital Mixing Consoles
Audio mixers, or sound consoles, are electronic sound mixing boards used to combine two or more audio signals, before directing them to the output channels connected to the device. Sound consoles do a great deal more than just combining different audio signals they allow users to optimize the sound output in a number of ways adjusting various sound levels, enhancing sound with special effects and equalization etc, allowing for unmatched control over the end product.