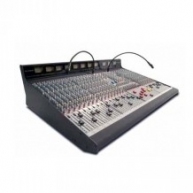 The GL3800 offers the same top class performance and comprehensive feature set as the more compact GL2800. In addition, it includes a stylish integral meterpod with 11 LED-illuminated, moving coil VU meters with built-in peak indicators . This provides the best of both VU and peak responding LED metering.

Quality:

The GL3800 uses the same silky smooth, high quality dual rail faders found in top end consoles costing many times the price. It offers a stylish, larger format, premium quality option to the lower priced GL2800.
Allen and Heath
We've built a lot of mixers in the last 35 years or so (over 160,000 at the last count) and we still get a huge buzz out of doing it well. It's an unbeatable feeling to know that at any time of day or night, right across the globe, there is an Allen & Heath mixer out there working hard, sounding great and making life a little easier for the guy at the controls.
Used Analog Mixing Consoles