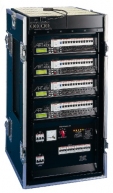 Avolites built their reputation on the FD series of dimmers which became the touring industry standard. Now Avolites present the Art Digital Dimmer. The ART is a three phase, 100% duty cycle Dimmer that will control 12 channels of up to 4,000 Watts each.


Avolites
olites are dedicated to producing the very best control solutions for all aspects of the professional lighting industry. The company has focused on, listened to and built upon end-user feedback which has allowed continual development and evolution of the product range. Avolites equipment utilises cutting-edge technology whilst retaining the accessible, intuitive, hands-on familiarity for which Avolites' products have become popular and renowned. Avolites also believe 'the people' part of the equation is vital in ensuring their position as market leader is maintained. The company comprises a creative, motivated, positive and lateral thinking team of individuals who will ensure a successful and progressive future for the company.
Used Dimmer Rack Modules
A dimmer rack module is a small device that is used in professional lighting to adjust the brightness of a light fixture. It works by altering the voltage of electricity that is delivered to the lamp. When the dimmer rack module reduces this power, the brightness of the lamp will fade down (become dimmer). Alternatively, if the dimmer rack module increased the power, the lamp will fade up (become brighter). Interestingly enough, a dimmer rack module allows for minor color control as well. Although large dimmer racks are sometimes used, these are often replaced with a dimmer rack module, which is smaller and contains a 20 to 50 ampere breaker. The advantage of a dimmer rack module is that it can also supply current to other devices, such as foggers and hazers, or lifting equipment. This is important as these other devices can be damaged if you fail to use a dimmer rack module on non-dimming electrical devices. The circuit to which a dimmer rack module is connected to will be constantly energized, thus protecting these other devices. Even in cases where it is thought that a regular dimmer rack will always be operating at full power, it can be dangerous for non-dimming devices due to interruptions in the data stream caused by DMX signals and noise interference, which would lead to the dimmer dimming the circuit.