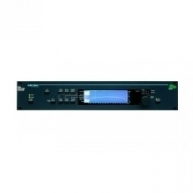 The FCS-926 combines a digital-controlled analogue parametric filter set with intuitive assignable controls, fully interactive graphic display and intelligent spectrum analyser, plus MIDI control.

The FCS-920 is a 1U slave module with the same EQ processing facilities as the FCS-926 but with no front panel controls.

VARICURVE's multiband parametric equalisation creates a more accurate and sonically superior EQ Contour than conventional manual or programmable graphic equalisers, and is equally at
home on Front-of-House, Monitor, or Studio Equalisation.

Each unit offers two channels of 6 band parametric EQ, or can be set to a mono 12 band equaliser. Any filter may be set to one of 212 frequencies, with a cut/boost of +/-15dB, or notch of 30dB, and a variable filter bandwidth of 0.1 to 2 octaves.

An integral spectrum analyser provides a fast method of measuring room response and automatically determining the correct EQ curve (as a first approximation).
BSS Audio
BSS Audio is world renowned for outstanding sound quality and reliable equipment that satisfies the real demands of professional musicians and high-profile installations. Products from BSS Audio are used on major tours, in recording and broadcast studios, churches, casinos, arenas, and nightclubs on every continent. Why do so many sound industry veterans swear by BSS Audio? Because with every performance, installation, broadcast, and recording, these professionals put their reputations on the line. The pros demand superior sound quality and a proven track record. They can count on it with BSS Audio.
Used Processor Units
Processor units, often simply known as a DSP audio processor, are a sound-processing device that alters the sound of auditory signals. The processing of the audio signals may be either digital or analog. The analog processing involves the direct operation of the electrical signal while the digital processing involves the mathematical operation on the digital representation of the audio signal. The audio signals are typically known as sound waves that are transmitted through the air. These sound waves are measured in decibels or bels. These audio signals need processor units especially in radio broadcasting because the processor units link the transmitter with the rest of the sound system devices. There are various methods involved in the processing of both analog and digital signals. These include the following: storage, compression, transmission, equalization, noise cancellation, enhancement, level compression, echo, filtering and many more. Analog processing is the physical alteration of the uninterrupted signal by modifying the voltage, the current or the charge with the use of electrical means. In earlier times, analog processing was the only method being used to modify signals before digital technology came into existence. With the evolution of computers and software, digital sound processing became the alternative to analog processing. The digital processor units use digital circuits like the microprocessors and computers to process audio signals. Digital processing deals with sound waves represented by binary numbers and deals with the sequence of these numbers. Nowadays, audio systems typically use the digital processing method because it is more powerful and proficient compared to analog signal processing.
FCS-926 - FCS-926 in good condition.