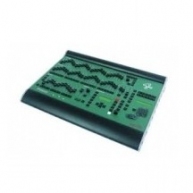 The Frog range of control desks builds upon the foundations of the Sirius and XL families using the latest technologies to bring new and improved features. As Zero 88 products, the Frog desks naturally retain the same ease of use, reliability and affordability as their predecessors.

The FatFrog can control up to 48 generic channels, which may be manually or automatically patched to any of the 512 DMX channels, there is also capability for control of up to 12 intelligent fixtures. The desk is fitted with a floppy drive for loading and saving show data, a remote Go port and the option for a monitor.


Memories can be recorded as scenes or chases, each having its own fade times and modifiers. Memories may be played back with the crossfade master and the Go button for sequential, pre-programmed shows. Extra flexibility is afforded through the 108 submasters allowing for the creation of lighting effects for the more spontaneous shows.


Dont be fooled by its simplicity and ease of use; the Fat Frog offers a host of powerful features, making it a formidable tool for creating shows. Its versatility makes it ideal for all entertainment lighting applications allowing even relatively inexperienced operators to create exciting shows.


The movement effects engine allows for simple and rapid programming of commonly used effects, whilst the inbuilt fixture library enables simple selection and manipulation of the Moving Lights. The unique F.R.O.G. (fixture random output generator) function can instantly generate unique lighting effects. These may be outputted automatically or stepped through, with desired looks being recorded as required.

Zero 88
Providing professional quality products at affordable prices is an ethic that has driven Zero 88 for 30 years. From the ground breaking Lightmaster 601 launched in 1972 to the latest products available today, Zero 88 offers outstanding value for money. dsn Research and Development A combination of experience and innovation ensure our products make the best use of the latest technology and materials. Up to the minute 3D modelling techniques, surface mount technology and innovative software design are used to drive down costs and make even complicated products affordable. Manufacture Our small batch, short lead time policy coupled with our commitment at all levels of the business to continually improve the manufacturing process, has resulted in Zero 88 being able to respond rapidly to demand for all mainstream product lines. A key success factor in the small batch strategy has been the development of strategic partnerships with a number of key suppliers. Zero 88's policy is to outsource the primary manufacturing processes such as metalwork, printed circuit boards, coils and transformers. By actively developing partner relationships with our suppliers, Zero 88 has been able to benefit from their years of experience in their specialities. These benefits help us deliver to you the highest quality manufacture product possible. Global Distribution Zero 88's warehouse facility provides distribution support for our agents around the world. Our streamlined logistics system enables us to process and dispatch most orders from our Welsh base with great efficiency. This has been critical in allowing us to service our extensive distributor network. Our export experience together with our global dealer network ensures we are able to service your needs anywhere in the world.
Used Lighting Consoles
Find used lighting consoles and lighting desks in well maintained condition from such popular brands as MA Lighting, High End Systems, Avolites, Jands and Martin Professional. All used lighting consoles come with warranty and many have been certified by factory technicians. Solaris sells and buys secondhand and used lighting consoles desks for touring production, churches, theaters, film, television and more. If you do not find what you are looking for give us a call.