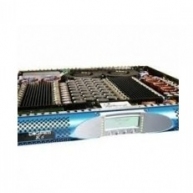 DIGAM K Series offer various power ratings in 7 models ranging from 2 x 1950 watts/ch. @ 4 Ohm to 2 x 9000 watts/ch. @ 2 Ohm, still maintaining the 1 unit size.
DIGAM K Series has become the flagship of Powersoft's technologies, ranking in the "Top Class" amplification of the global pro audio market.
DIGAM K series represents a new milestone of switch mode amplification providing incredible power in 1 rack unit with the lowest weight and highest efficiency.
DIGAM K sonic performances set a new target for professional audio market.
Powersoft
Used Amp Rack Units
Find used audio amps and amplifiers by top manufacturers such as Lab Gruppen, Crown, Crest, Powersoft and more. All products come with warranties and are tested before shipping to you. Solaris sells and buys secondhand and used amplifiers for installations, concerts, churches, events and all types of entertainment production. If you do not find what you are looking for give us a call and we will quickly find it for you.
Digam K-6 - Digam K-6 used in an installation, in excellent condition.