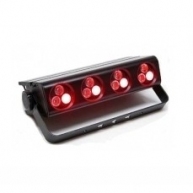 The Chroma-Q? Color BLOCK's? modular design and comprehensive range of fixing options allows users to easily create a complete LED system using stock of just one generic fixture type - including battens, Blinders and various mounting configurations using the built in fixing.

Each BLOCK features four sets of 3 high output RGB LEDs which produce an intense, powerful light and vibrant colours across the spectrum.

Designed to be intelligent both inside and out, the modular blocks incorporate the latest HSI (Hue, Saturation and Intensity) control as well as RGB, and Variable Effects Engine software which gives the lighting designer full control over colour and effects combinations.

The product's lightweight yet robust, heavy gauge aluminium extruded construction houses a discreet Cable management system and additional protection is built around the LED lenses for a truly road proof fixture.

The Color BLOCK's modular 'building blocks' design has proved extremely popular with both rental companies and end users, who have adopted the fixture to create fully bespoke LED Lighting solutions for a wide range of touring, TV, theatre, tradeshow and indoor architectural applications.

Create effects lighting including battens, Blinders, footlights, side fills, cyclorama floods, Truss toners, discreet set piece lighting and interior architectural lighting applications - all from stock of just one fixture!

The Color BLOCK range includes a wide choice of separately available fixing accessories for wall, floor, Truss, stand and vertical hanging units, nine different colour options, and UV and white LED versions for specialist applications.
Chroma Q
The new Chroma-Qâ?¢ Plus colour changer builds on the great success of the Original colour changer and adds new, advanced features, while maintaining the affordable price. With over 30,000 units sold worldwide, the Original's industry proven performance and reliability is combined in the Chroma-Qâ?¢ Plus with new electronic features, increased capacity and other enhancements - providing even greater flexibility and usability.
Used LED Wall Washers
Find used LED pars, wall washers and more from top brands such as Color Kinetics, Chauvet, Martin Professional and Elation. All products come with warranties and are tested before shipping to you. Solaris sells and buys secondhand and used LED strips, pars and more for event production, houses of worship, concert and theaters. If you do not find what you are looking for give us a call and we will quickly find it for you.