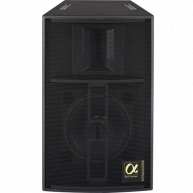 The alpha V-1/90 is concepted as a 3-way cabinet in a Coaxial-In-Line topology and serves as a MID-HI component in the large sound reinforcement system alpha.

In conjunction with Alpha B3 or alpha B6 the recommended x-over frequency to the subwoofers is 100Hz. The recommended x-over filter transfer function is Butterworth 12dB/octave. The polarity of the Subwoofer channel has to be switched to ??invertedat the active x-over unit (e.g. DSP 260, DSP244). An Electro-Voice EVM15L Pro-Line woofer works into a LO-MID short-horn. The HI-MID frequency range is radiated by an Electro-Voice HP64S rotatable horn system driven by a DH 7 driver. The HI range above 8kHz is reproduced by Dynacord's HFR 2508 ring radiators with an extremely wide polar pattern. This assures a very comfortable near-field sound quality. Excellent far-throw capabilities are realized due to the Coaxial-In-Line topology of the cabinet.

The alpha V-1/90 is equipped with a passive x-over for the HI transducer and can be operated in active 2-way mode (LO-MID, HI-MID+HI) or active 3-way mode (LO-MID, HI-MID, HI). The operating mode can easily be selected by slide switches at the rear panel. Every transducer is reliably protected against critical power levels and short-tem thermal overload by thermo switches and professional halogen radiators in all operational modes.

The alpha V-1/90 connector panel is equipped with an 8-pole Speakon connector which helps to prevent erroneous connections. The alpha V-1/90 cabinet is made of high-density Mediapan. All corner joints and braces are grooved and glued. The cabinet surface is varnished in structural black. A heavy, powder-coated steel grille protects the front of the cabinet.

Dynacord
Brands like DYNACORD, ELECTRO-VOICE, RTS and others are under the roof of Bosch Communications, Inc. EVI Audio GmbH as the European headquarters with the electronics manufacturing is located in Straubing, Germany. The loudspeaker boxes are produced in a second facility in Hohenwarth, approximately 45 km away. In Europe approximately 650 employees are occupied, approximately 500 of which are in Germany. Regional PI-distribution offices are in all large areas of business concentration across Germany. EVI Audio GmbH is also responsible for the activities of the subsidiaries in France and UK and for the territory of Africa and Middle East. The place of work is Straubing, a mid-size city in close proximity to the Bavarian Forest with his many idyllic little villages. This area offers all amenities and schools close by and all possibilities of living, leisure and sports.
Used Cabinet Speakers
Find used speakers and used speaker cabinets from popular brands as JBL, Turbosound, EAW and more. All used speakers we carry are warrantied and in most cases inspected by factory certified technicians. Solaris sells and buys secondhand and used speaker cabinets for use in churches, clubs, theaters and other large events and shows. Call us if you don't find it and we will find it for you.