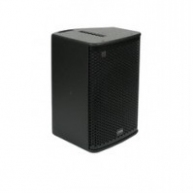 AP12
2-WAY SELF-POWERED FULL RANGE SYSTEM
FEATURES:
2-way coaxial self-powered, versatile full range system
Neodymium 12 coaxial loudspeaker, 80x 60 waveguide
500W RMS class D low frequency amplifier
100W RMS mosfet high frequency amplifier
Single point source system providing coherent wave front
Improved transient response
Very high SPL, superb quality sound
Small size, low weight
M6 suspension points and air cargo flying tracks
The Coda Audio AP12 is a coaxial 2-way self-powered
biamped full range loudspeaker system designed without
compromise to provide a true one point source in a small
package.

The cabinet contains an extremely high power 12 neodymium woofer and a coaxially mounted neodymium driver loaded by a 80 x 60 elliptical waveguide.
The advanced design aligns the acoustical centres of the transducers to produce a single point source. This unique loudspeaker technology provides a coherent wave front without hot spots. Precise directivity ensures uniform coverage with perfect time alignment between the components. The use of a high efficiency class D amplifier for the low and a mosfet amp for the high frequency range ensures small size, low weight and superb sonic performance.
The AP12 incorporates a multidesign enclosure enabling it to be used as a front of house full range unit or as a floor monitor. The addition of an integral top hat and flying hardware as standard allows multipurpose applications.
Coda Audio
Used Cabinet Speakers
Find used speakers and used speaker cabinets from popular brands as JBL, Turbosound, EAW and more. All used speakers we carry are warrantied and in most cases inspected by factory certified technicians. Solaris sells and buys secondhand and used speaker cabinets for use in churches, clubs, theaters and other large events and shows. Call us if you don't find it and we will find it for you.