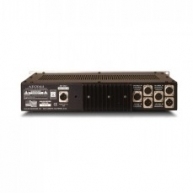 Dual Mono-Stereo, Pure Class A Opto-Compressor
The AD2044 features 100% discrete, pure class A signal amplifier configured with high speed current monitored optical control Elements. These "invisible" opto Elements enable the AD2044 to deliver totally transparent, low noise gain reduction within the minimalist signal path design. No VCAs are incorporated. Variable attack and release controls plus side chain access, provide unlimited creative control from soft compression to hard limiting.
Avalon Design
Wynton R. Morro founded Avalon with the desire to bring the art of music recording closer to the essence of the original performance. Avalon's pure Class A recording systems provide the world's leading engineers, producers and musicians with state-of-the-art electronics designed especially for high-fidelity music and sound recording, These carefully engineered systems enhance the creative senses and become one with the music itself. Features Avalon systems utilize 100% discrete, high-bias pure Class A audio amplifiers. These pure Class A amplifiers are incorporated into minimal signal path designs which include sealed silver relays, balanced DC coupled high-current "outside-world" drivers, fully discrete linear DC regulators, low noise toroidal power transformers and selected high quality active and passive components. This powerful combination of design features gives increased musical headroom and greater dynamic transient capability for a truly transparent audio passage. Sonic Excellence Avalon's unique design features, highest quality components and continued pursuit of sonic excellence assures the most harmonious musical signal transfer available today. Whether you are recording a solo vocalist, capturing the delicate nuance of an acoustic instrument, mastering music and film productions or recording symphonies, let Avalon take you to the leading edge in analog and experience sonic reality like never before!
Used Compressors and Limiters
Audio compressors and limiters are a kind of specialist hardware used to either amplify the volume of quiet sounds or reduce the volume of loud sounds, by simply compressing the '??dynamic range'?Ě of an audio signal. Audio compression is commonly used during live concerts, broadcasts and studio recording. Audio compressors and limiters, sometimes called a dynamic compressor, can manipulate the volume of sound by alternating the rate of compression through two basic functions '?? attack and release controls, which are also able to smooth the final effect of the audio output. There are many different kinds of compressors and limiters available, including very basic models with just a few simple knobs for attacking and releasing, and more advanced models which provide greater versatility when it comes to attenuating audio signals. Audio technicians place an extremely high value on compressors and limiters. An audio limiter is essential for managing the level of audio signals during recording sessions. If the volume produced by a piano for example, is not managed, the recording equipment could easily be overloaded when the pianist plays louder, impacting on the quality of the final recording. Similarly, when the pianist plays at a lower volume, audio compressors and limiters are needed to boost the volume level so that the signal remains consistent throughout. In addition to managing signal levels, compressors and limiters can also be used to create special effects and add an extra dimension to recordings. Audio limiters are able to compress dynamic range audio signals into a much narrower range, hence why they are sometimes called a dynamic compressor. The results of such audio compression include attaining a higher source signal from low volume sound, smooth and consistent tones, an increase in some musical instruments sustain and the ability to enhance the '??punch'?Ě of certain instruments, such as guitars, bass and drums.