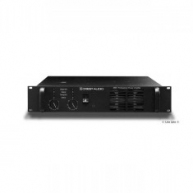 The Crest Audio Model 4801 is a compact, high-power amplifier designed to meet the most stringent demands of professional use in concert touring, studio monitoring, high-quality sound reinforcement, and professional installations. A forced-air configuration is used to cool channel heat sinks mounted in a back-to-back tunnel arrangement. An actively balanced female XLR input connection, Octal Socket, and 5-way output binding posts are provided for each channel. The 4801 is fully compatible in design with other Crest Audio
Professional Series amplifiers, Octal Socket Accessories, and the NexSys computer-controlled audio system
Crest Audio
Not all audio components are created equally. Crest Audio has always striven to produce components which embody the finest audio quality and most rugged physical constructionâ??regardless of cost. This design philosophy results in products which always exceed the audio specifications and physical demands of their target application. Crest Audio components could be designed with lower cost in mind, but now without sacrificing the excellence of our brand has come to represent. This difference is clearly audible when placing our products in A/B comparisons with competitors. Hands-on industry experience and research invests every aspect of the Crest Audio enterprise. Our engineering efforts are driven by a mandate to create products tailored to clearly defined applications and which apply proven technologies to well-researched user needs. Such real-world input ensures responsive product development and results in audio components with intelligent feature-sets, transparent user-interfaces, and intuitive control surfaces. Engineering is meaningless without quality construction. Crest Audio insists upon superior build quality employing the finest chassis design, components, mechanical construction, assembly, and quality control. We are so certain about the quality of our products that we offer five-year warranty protection in the U.S. and many other countries. Expert customer service and the industry's finest technical support complete the experience of owning and using Crest Audio productsâ??trusted by professionals the world over.
Used Amp Rack Units
Find used audio amps and amplifiers by top manufacturers such as Lab Gruppen, Crown, Crest, Powersoft and more. All products come with warranties and are tested before shipping to you. Solaris sells and buys secondhand and used amplifiers for installations, concerts, churches, events and all types of entertainment production. If you do not find what you are looking for give us a call and we will quickly find it for you.
4801 - 4801 in good condition.