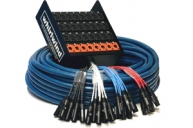 Snake's studio quality mic preamps and powerful Remote Control features make it and digital consoles a potent combination.
Whirlwind Music
Whirlwind Music, Inc. Switchcraft Products · CobraNet Products. ©1999-2009 Whirlwind Music Distributors, Inc. - All descriptions and specifications subject to change without notice.
Used Audio Mixer Accessories
An audio mixer is a device that is used to alter the sounds of various recorded audio sounds and combine it into 1 or more channels. Mixing systems are utilized in numerous applications such as radio/television production sets and recording studios. Audio mixer accessories are required for any audio mixer to work properly. For instance every audio mixing console needs an audio mixing cable to connect to microphones and speakers. Some audio mixer accessories that crucial are adapter cables, audio balanced mini XLR, remote audio cables and the remote audio cooper cable. Other important audio mixer accessories are the audio console cover and audio console light. Audio mixing systems are not inexpensive so itâ??s imperative to protect it. An audio console cover will protect the system from dust, dirt and keep it running smoothly. Some events will require users of an audio mixing device to be in darkness either for part of the occasion or throughout the event thatâ??s why itâ??s important to have an audio console light. More audio mixer accessories that are necessary at venues holding events are an audio console stand and audio console case. Audio console stands come in various shapes and sizes and can hold everything from the mixer to laptops and other audio mixer components. An audio console case depending on the size should be able to hold an audio mixing system, audio mixer accessories and other important items.