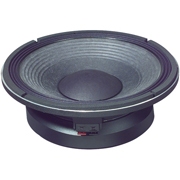 The JBL 2206H/J low frequency
transducer represents the results of
JBL's latest engineering research in
high power transducer design. The
2206H/J signifies a major advance in
speaker design by incorporating JBL's
patented Vented Gap Cooling' technology in an improved Symmetrical
Field Geometry (SFG) magnetic
structure.
To increase power handling while
reducing power compression, JBL
engineers have created a unique,
direct voice coil-to-air heat dissipation
method called Vented Gap Cooling.
This process pumps air through the
magnetic gap and directly over and
around the voice coil to provide
immediate heat transfer and reduction
in operating temperature - a direct
improvement in power compression.
Through the use of new computeraided magnet optimization and analysis techniques, JBL engineers were
able to optimize both magnet weight,
flux density and field saturation
resulting in a 1.8 kg (3.9 lb) reduction
in overall driver weight and a significant reduction in harmonic distortion.
This new magnet structure offers
much of the weight advantage of rare
earth magnet structures without their
prohibitive cost
JBL
James Bullough Lansing was born James Martini, 14 January 1902, in Macoupin County, Millwood Township, Illinois. His parents were Henry Martini, born in St. Louis, Missouri, and Grace Erbs Martini, born in Central City, Illinois. The elder Martini was a coal mining engineer, and his work required that the family moved about quite a bit during Lansing's early years. Lansing was the ninth of fourteen children, one of whom died in infancy. For a short time, Lansing lived with the Bullough family in Litchfield, Illinois. He later took their name when he changed his from Martini to Lansing. Not much is known about Lansing's early days, and we are indebted to Bill Martin, one of three surviving brothers, for providing most of the information presented here. Lansing graduated the eighth grade at the Lawrence School in Springfield, Illinois. He also attended the Springfield, Illinois, High School. Later, he took courses in a small business college in Springfield. As a young lad he was very interested in all things electrical and mechanical. At about the age of 10, he built a Leyden Jar which he used to play pranks on his playmates. He also constructed crystal sets, and at one time, probably about the age of 12 or so, built a small radio transmitter from scratch. The signals from this set were apparently strong enough to reach the Great Lakes Naval Station in Illinois; naval personnel determined the source of these signals and later supervised the timely dismantling of the young Lansing's radio transmitter. For a while Lansing worked as an automotive mechanic, specializing in fine engine repair work. He attended an automotive school for mechanics in Detroit through the courtesy of the dealer he worked for in Springfield. Lansing's mother died 1 November 1924 at the age of 56, and at that time Lansing left home. As best we can determine, he went directly to Salt Lake City. Mrs. Lansing, the former Glenna Peterson of Salt Lake City, tells of meeting Lansing in 1925 in that city. At the time he was working for a radio station as an engineer. In addition, he worked for the Baldwin loudspeaker company in Salt Lake City for a time. He also met his future business partner, Ken Decker, in Salt Lake City.
Used Custom Speakers
Custom speakers are customized loud speakers which have been built for a special purpose. Sometimes, in concerts or theaters, sound technicians require customized speakers so that the quality and characteristics of the sound waves can be adjusted to suit their specific intentions. Other types, people simply have a preference for a certain custom speakerā??s designs, and these need to be specially made. Itā??s possible for any type of speaker system to be made into customized loud speakers. Custom speakers include full range drivers, mid range speakers, tweeters, woofers, subwoofers and even coaxial speakers. Sometimes custom speakers are needed to be able to withstand certain atmospheric or weather extremes, such as in the case of speakers which will be used in outdoor venues. These custom speakers can be specially designed to withstand various extremes of temperature and humidity levels, while they are also designed to stand up to inclement weather like rain, frost, dust storms etc. Customized loud speakers built for outdoor venues are known for their reliability, as they are made from tough, high-performance cone materials. These materials have been proved to stand up to the worst extremes of cold and heat, aridity and humidity, and so custom speakers such as these are highly prized in outdoor venues. Ordering custom speakers is simple. Just state what kind of temperature and weather extremes you need the custom speakers to withstand, and we can suggest the best materials for the job.