Used Line Array Speakers

FOR SALE: Used Line Array Speakers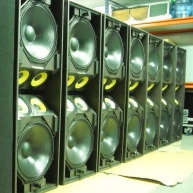 Find used
Line Array Speakers
and line array
Elements
from such popular brands as
L-Acoustics
, d&b audiotechnik,
Meyer Sound
and
Nexo
. All used
Line Array Speakers
are warrantied and in most
Cases
inspected by factory certified technicians.
Solaris sells and buys secondhand and used line arrays for large concerts, tours, stadiums and auditoriums. Call us if you don't find it and we will find it for you.
Used Line Array Speakers For Sale
View All

$276,853 USD : €217.350 EUR
Package of (24) VT4889, (24) VT4880, and Amp Racks in great condition.
$227,049 USD : €178.250 EUR
Package of (20) VT 4889-1 + (4) VT 4889, (24) JBL dollies + cover, (6) dollies for (4) pieces ...
Brands: Line Array Speakers
Popular: Line Array Speakers