Used Line Array Speakers

FOR SALE: Used Line Array Speakers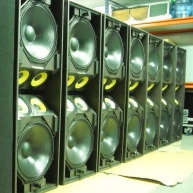 Line array speakers make up a loudspeaker system to create a sound source that produces an evenly distributed sound output. The driver of each line array element is close enough to the driver of the next element to create constructive interference. The resulting sound waves go farther than sound waves from traditional loudspeakers.
Line Array Systems
date back to the early days of research in acoustics. Many old town halls and public
Venue
s still have old line source boxes which were found to project voice well though they are much smaller than horn-loaded speakers.
These days, line array speakers use different drivers for high-, mid- and low-frequency passbands that must be in line. Each enclosure must be set up closely to form columns composed of these drivers. To increase the frequency range and maximum sound pressure, the number of drivers per enclosure must be increased.
The orientation of line array speakers may vary. Vertical arrays are excellent for focusing sound at audiences without wasting output energy on ceilings or empty air above the audience because of its very narrow vertical output with a normally-wide horizontal pattern. On the other hand, horizontal line arrays have a very narrow horizontal output with a tall vertical pattern.
For hanging concert speakers which are usually part of a concert reinforcement system, enclosures are set up together using a specialized
Rigging Hardware
and they hang from a single point. These line array speakers are curved backward at the lower portion so that the sound will reach more audience.
Used Line Array Speakers For Sale
View All

$17,652 USD : €13.750 EUR
Package of (4) AlphaE-F with amplifiers in great condition.
$5,879 USD : €4.579 EUR
Like new Kudo, from 2013. Used in corporate events.
Brands: Line Array Speakers
Popular: Line Array Speakers