Used Amp Racks

FOR SALE: Used Amp Racks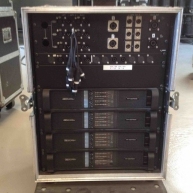 Find used audio amps racks by top manufacturers such as Lab Gruppen,
Crown
, Crest,
Powersoft
and more. All products come with warranties and are tested before shipping to you.
Solaris sells and buys secondhand and used audio amplifier racks for installations, concerts, churches, events and all types of entertainment production. If you do not find what you are looking for give us a call and we will quickly find it for you.
Used Amp Racks For Sale
View All

$6,197 USD : €5.400 EUR
MaDiRack in mint condition, previously used in a few rentals.