Used Amp Racks

FOR SALE: Used Amp Racks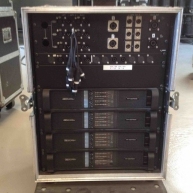 Amp racks or amplifier racks generally to refer any furniture, fixture, or case where amplifiers are mounted by their faceplates or in slot grooves. These are rugged and
Strong
Cases
designed to carry and protect amplifiers. They are available in various styles, colors, features and materials.
These are used in
Recording
studios, mobile DJ setups, live stage events and other events in which audio amplification is needed. In these events, there could be more power or more output channels than a single amp could provide that is it may be necessary to have all portable amps.
Rental sound reinforcement systems are not complete without any amplifier rack especially if the rental company??s target market is touring acts. A concert touring sound rack is built to hold up during road trips from one city to another. It should protect the amplifiers from the hazards of loading and unloading.
Racks are not only for musicians who do live performances or concerts. PA systems, for the reproduction of speech and recorded music in buildings and institutions, also need a PA amp rack which can be portable or stationary depending on how the amplifiers are used. Stationary racks are of different styles or types such as wood, metal floor, fixed metal, sectional or reversible metal wall racks.
Used Amp Racks For Sale
View All

$1,454 USD : €1.132 EUR
Corporate used PLX 3402, in great condition.
$621 USD : €508 EUR
MA-2400 in excellent condition.