Buy Used M7CL-48 by Yamaha

FOR SALE: Used Audio Mixers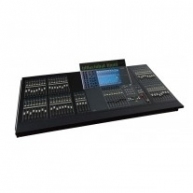 If you're planning to build or upgrade a mid-size sound system - installed or portable - now's the time to move up to a top-performance, easy-
Opera
tion digital system based on the M7CL. This is one digital mixing console that lets you concentrate on sound without being overwhelmed by the technology. * 48 or 32 mono microphone/line inputs, 4 stereo inputs, and 3 mini-YGDAI card slots (a total of 56 or 40 mixing channels). * 16 mix buses, LCR bus, 8
Matrix
channels, and 8 DCAs assignab...
Also Known As: Used yamaha mcl7, Used YAMAHA M7C, Used yamaha m7cl, Used yamaha m7, Used m7cl-48
Used Audio Mixers For Sale
$52,437 USD : €40.575 EUR
This XL4 is Completely Ready to Ship. From 2001.
$9,368 USD : €7.142 EUR
Series five tour package. 40 mono channels + 4 stereo channels. 10 day warranty. Used for touri...
Contact a Sales Specialist about used M7CL-48 for sale.
+1.404.817.9300
M7CL-48 Audio Mixers
... and 8 DCAs assignable to 16 omni outputs.
* Virtual effect and EQ rack: up to 4 simultaneous multi-effect processors; up to 8 simultaneous 31-band graphic EQs.
* Centralogic'?Ę interface: central, logical, and intuitive.
* Dual power modes: use the built in
Power Supply
, or add an external PW800W
Power Supply
unit (optional) for failsafe dual-supply operation.
* Compact and lightweight: 48 channels in the space and weight normally required for 24.
Yamaha
's Centralogic'?Ę interface takes the most direct approach to giving you maximum operational ease and efficiency in a digital console. Rather than trying to simulate the feel and workflow of an analog mixer, Centralogic'?Ę goes straight to the heart of the matter, simplifying digital operation to the point where it is actually as intuitive as analog ... if not easier. A touch-panel display combined with
Yamaha
's
Acclaim
ed selected channel concept and a straightforward navigation system '?? no layers, one-function physical controls, and all digital controls can be accessed through just two main display screens '?? lets you focus in on any operation directly and instantly. In fact, the entire 32-channel or 48-channel console can quite easily be operated from the 44.2-centimeter-wide (that's a little over 17 inches) Centralogic'?Ę section alone.

Yamaha Audio Mixers
Since 1887, when it began producing reed organs, the Yamaha Corporation in Japan (then Nippon Gakki Co., Ltd.) has grown to become the world's largest manufacturer of a full line of musical instruments, and a leading producer of audio/visual products, semiconductors and other computer related products, sporting goods, home appliances and furniture, specialty metals, machine tools, and industrial robots. Yamaha now owns 59 subsidiaries and affiliates in overseas markets in addition to numerous related companies in Japan. Additionally, Yamaha owns and runs its unique resort facilities throughout Japan so as to enhance our customers' leisure and cultural activities. Also, Yamaha provides a place for studying music, sets opportunities for presenting one's own compositions, and creates an environment for the enjoyment of a variety of musical endeavors. Since Yamaha Music Foundation was established in 1966, it has generated a wide range of music activities throughout global society, including Yamaha music schools, and the Junior Original Concert. Strong commitment to promote and support music education and popularization is one of the most significant elements to distinguish Yamaha from its competitors. Yamaha has endeavored to produce products and services that satisfy the diverse needs and desires of people worldwide. Its products and services are recognized the world over for superior quality in acoustics, design, technology, craftsmanship, and customer oriented services. These products and services under the brand name of Yamaha are highly regarded by a large number of professionals, institutions, business people within the related industries, and consumers. Our corporate philosophies are embedded in our customer oriented management and operations; providing excellence in our products and services; continuous efforts to expand our existing market and create new markets; enhancement of research and development on a long range perspective; commitment to care for end users through providing even better service after sale; pursuit of further globalization of Yamaha's business; fostering positive growth through diversification. Yamaha's very basic corporate objective is reflected in everything that it does, which is to contribute to the enrichment of the quality of lives for people around the world.
Amplitude
- Amplitude is a nonnegative scalar measure of a wave's magnitude of oscillation, that is, magnitude of the maximum disturbance in the medium during one wave cycle.
Sometimes this distance . Used . is called the "peak amplitude", distinguishing it from another concept of amplitude, used especially in electrical engineering: the root mean square (RMS) amplitude, defined as the square roo. Used . t of the temporal mean of the square of the vertical distance of this graph from the horizontal axis. The use of peak amplitude is unambiguous for symmetric, periodic waves, like a sine wave, a square wave, or...
Active
- A active circuit works with an external power supply and usually at low power. A passive circuit operates directly on a signal using the power coming from the surrounding circuitry.
This is the . Used . reason why an active crossover is, for the most part, placed before amps, containing integrated circuits (and line level signal processing). On the other hand a passive crossover is placed . Used . after amplifiers where power levels are much larger . ...
Scaffolding
- Scaffolding is a temporary platform or framework, either supported from below or suspended, that is used to support people and material during the set up and deconstruction of a stage or venue.
. Used .
. Used . ...
Intelligent Fixtures
- Intelligent Fixtures or Moving Lights were originally implemented in 1972, but the first computer-controlled stage lighting fixtures began to gain widespread acceptance in the concert industry in the . Used . early 1980's. As the digital age progressed, the cost of these fixtures was reduced and they slowly started being used in more 'traditional' theatrical environments. Intelligent fixtures are . Used . currently used in almost all major theatrical productions.
Usually relying on compact arc lamps as a light source, these fixtures generally use stepper motors connected to varying internal devices...
Memory Consoles
- Memory-based consoles have become very popular in almost all larger installations, particularly theatres. These new types of controls have completely replaced preset consoles as controllers of choice. Used . . Memory consoles are preferable in productions where scenes do not change from show to show, such as a theatre production, because scenes are designed and digitally recorded, so there is les. Used . s room for human error, and less manpower is required to produce the same result.
Memory consoles have a bank of faders called 'submasters.' These submasters can be programmed to control a single
Audio Mixers
Audio mixers, or sound consoles, are electronic sound mixing boards used to combine two or more audio signals, before directing them to the output channels connected to the device. Sound consoles do a great deal more than just combining different audio signals '?? they allow users to optimize the sound output in a number of ways '?? adjusting various sound levels, enhancing sound with special effects and equalization etc, allowing for unmatched control over the end product. When there is a need for high quality sound control and output, audio mixers are an essential item for audio team. Mixing desks are used on stage in live concerts to combine the sound input from various musical instruments in to a stereo master mix. For TV and movie studios, sound consoles are essential to combine the various sounds from the numerous different microphones that will be used. Audio mixers are available in a wide range of different shapes, sizes and designs, beginning with smaller units designed for portability, right up to the enormous sound consoles used in recording studios. The term audio mixer actually refers to any kind of sound mixing board, whereas a sound console is usually a device which sits permanently on a desk. Technicians usually differentiate audio mixers according to how many channels they have. Fairly standard in the recording industry is the 12-channel mixer, in which you can hook up a total of 12 input sources. Sound consoles can also be more specified '?? for example, a 24 x 4 x 2 mixer has 24 inputs, 4 sub-group channels and 2 output channels.
November 23rd, 2011
Yamaha has released an iPad app that allows you to remote control your Yamaha M7CL-32 or M7CL-48 console. Version 2 has just been released and allows control of head amp gain for each input channel and adds scene memory management. StageMix provides remote control of M7CL functions via a simple, intuitive graphical i...
more...
February 14th, 2011
At PLASA2010 Yamaha demonstrated two new software control packages which allow mixing engineers to control Yamaha M7CL-48, M7CL-32 V3, LS9-32 and LS9-16 mixing consoles from Apple computers. While Apple Macs have been at the vanguard o...
more...