Buy Used Studio 24 Scan Control by SGM

FOR SALE: Used Lighting Consoles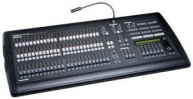 Studio 24 Scan Control is a reliable user-friendly lighting console, able to control 24 or 48 channels of
dimMA
ble fixtures, and 12 'intelligent' units using up to 36 DMX channels each. The controls on the Studio 24 Scan Control include: Manual Presets (2 rows of 24 faders, which can be used as two 24-channel presets or a single 48-channel preset); Registers (1 row of 12 faders which control the memory registers); Light Chase controls (for programming and controlling chases); DMX Unit control...
Also Known As: Used Studio 24 Scan, Used studio 24 scan control
Used Lighting Consoles For Sale
View All

$6,148 USD : €4.770 EUR
In excellent condition.
$12,880 USD : €10.142 EUR
Definitive hybrid console in like new condition. Corporate use.
Contact a Sales Specialist about used Studio 24 Scan Control for sale.
+1.404.817.9300
Studio 24 Scan Control Lighting Consoles
...s); DMX Unit controls (for controlling moving head units, scanners, colour-changers, dimmers, and any other equipment using DMX 512 protocol).
Studio 24
Scan Control is an extremely versatile lighting control console, ideal for a vast range of applications: from concerts to theatres, clubs to television studios, from small to large show events.

SGM Lighting Consoles
For over 25 years, SGM has been a key international player in the development of 'intelligent' entertainment lighting systems. Its success is based on its strong business vocation, its great interest in innovation and its staff's enthusiasm. But above all, its choices. Setting up a Research & Development Centre equipped with the very latest mechanical, electronic and optical processing software, where its technology is designed in-house. Managing the entire manufacturing process directly, using machinery and control systems of the latest generation. Being 'in the field' worldwide alongside lighting designers, rental firms and installers with its technicians and its sales network, listening to their needs and offering responses made up of concrete solutions and avant-garde products: products with a 'personality' and unique characteristics. This is why moving head fixtures, scanners, follow spots, colour-changers, lighting control consoles, dimmers, strobe lights and smoke machines with the SGM logo are equally at home on top show events, at concerts or in theatres and television studios. SGM faces 21st century technical and commercial competition as a protagonist, convinced of its present and certain of its future. Because SGM's future consists in cutting edge proprietary technology, an innovative approach to product features and great passion for a fascinating job.
Coners and Hinges
- Corners are used to attach trusses and other rigging while hinges are used to allow attached rigging to swing open so other gear can be connected.. Used . . Used . ...
Auxiliary Output
- A seperate line level output from a sound console that is to be used for foldback or monitoring that does not use up another main output. Each in channel has a path to the Auxiliary bus. It is also . Used . useful to send a signal to a separate effects processor.
. Used . ...
Wavelength
- The distance from one point, usually the crest, on a vibrating wave to the same point on the next wave. The shorter the wavelength the higher the frequency and the more directional the wave and vice . Used . versa. Commonly designated by the Greek letter lambda (?), wavelengths are usually measured in Angstroms.. Used . ...
XY
- A stereo recording technique using two identical cardioid or directional microphones placed next to each other at an angle of 90 degrees. This method is employed to overcome the coverage problems of . Used . AB recording. The main disadvantage being that audio from the center of the stage arrives at a 45 degree angle to the mics where the response is not as efficient leaving an apparent gap in t. Used . he stereo field. ...
Pattern
- Pattern refers to the shape, quality and evenness of a lamp's output. The pattern of light an instrument makes is largely determined by three factors. The first are the specifics of the bulb, reflecto. Used . r and lens assembly. Different mounting positions for the bulb (axial, base up, base down), different sizes and shapes of reflector and the nature of the lens (or lenses) being used can all a. Used . ffect the pattern of light. Secondly, the specifics of how the lamp is focused affect its pattern. In Ellipsoidal Reflector Spotlights (ERS) and their derivatives (see below), there are two beams of light emit...
Lighting Consoles
Lighting consoles are electronic devices for controlling multiple lights simultaneously from one point. Dimmers for controlling lighting intensity, automated lighting, fog machines and hazers are some of the special effects lighting devices controlled by a lighting board or lighting desk (other terms for lighting consoles). An electronic control protocol is used by lighting consoles to communicate with other devices in the lighting system. Some of these are DMX512, ACN and DMX-512-A. New protocols are being introduced as more sophisticated lighting systems become available. In the entertainment industry, where theatrical lighting design is mostly used, lighting consoles are usually found in the control booth, auditorium or the foyer. For this application, the most common protocol is DMX512. Lighting consoles are available in different sizes and complexities. A preset board, a conventional console for basic lighting systems, is used mostly for small setups. However, DJs may complement it with more advanced hybrid consoles. A moving light controller works with dimmers for controlling ordinary lighting. It also provides additional controls for automated stage lighting (also called intelligent lighting) to produce very complex lighting effects. Other types of lighting consoles include memory consoles, personal-control based controllers, and remote focus unit. The light board operator (also called the light op or board op) is the person who operates the lighting console. Depending on the scale and type of production, he can be the lighting designer or the stage manager. He or she is responsible for conventional or automated lighting fixtures as well as controlling video.
Used Studio 24 Scan Control For Sale
View All