Buy Used ColorWash 575E AT by Robe

FOR SALE: Used Moving Lights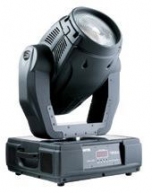 The
ColorWash 575E AT
is an electronic ballast version of the ColorWash 575 AT, which sees an expansion of features like flicker-free operation, enhanced light output, extended lamp life, power-saving mode for economy and reduced weight. The same large LCD display - first featured on the ColorSpot
1200 AT
enhances the fixture's user-friendliness. An E
Thern
et connection is also available with the 575E AT version.
ColorWash 575E AT
is ideal for theatres, TV studios, medium sized stage applications...
Also Known As: Used 575E, Used wash 575, Used Colorwash 575
Used Moving Lights For Sale
View All

$4,092 USD : €3.105 EUR
All are in perfect condition. Comes with a 12 month warranty.
$2,678 USD : €2.093 EUR
Includes a triple case with every 3 units purchased. 7 day warranty.
Contact a Sales Specialist about used ColorWash 575E AT for sale.
+1.404.817.9300
ColorWash 575E AT Moving Lights
...d stage applications and all applications requiring a 'workhorse' 575 lamp. Offering full CMY, variable CTO, colour-wheel with 5 replaceable colours + open, combined dimmer/shutter and rotatable beam
Shaper
, indexable 360deg with continuous rotation. The standard zoom angle has a range of 12-34deg, extendable with an optional lens to make 24-60deg, currently the most flexible zoom range on the market. The ColorWash 575 AT follows the hugely popular
Robe
Wash 575 XT Series fixture.

Robe Moving Lights
Robe Show lighting . Manfuacturer of high quality Intelligent Lighting systems and products. ROBE Lighting, Inc. Headquarters: 13807 N.W. 4th Street, Sunrise, Florida 33325 Tel.: (954) 615-9100 Fax: (954) 615-9105
Coners and Hinges
- Corners are used to attach trusses and other rigging while hinges are used to allow attached rigging to swing open so other gear can be connected.. Used . . Used . ...
8-Bit DMX
- A value or parameter using one DMX channel for control.. Used . . Used . ...
LCD
- A liquid crystal display is a low power, flat, thin display device made up of color or monochrome pixels arranged in front of a light source or reflector.
. Used . . Used . ...
Zoom Ellipsoidal
- A type of profile spot with two lenses allowing the adjustment of both the size of the beam and whether it is a hard or soft focus. This adjustment of focal length makes for an instrument with many us. Used . es around the stage. The flexibility is also vital when working with gobos. Also known (in the US) as a Zoom Ellipsoidal.. Used . ...
Intelligent Fixtures
- Intelligent Fixtures or Moving Lights were originally implemented in 1972, but the first computer-controlled stage lighting fixtures began to gain widespread acceptance in the concert industry in the . Used . early 1980's. As the digital age progressed, the cost of these fixtures was reduced and they slowly started being used in more 'traditional' theatrical environments. Intelligent fixtures are . Used . currently used in almost all major theatrical productions.
Usually relying on compact arc lamps as a light source, these fixtures generally use stepper motors connected to varying internal devices...
Moving Lights
Moving lights, or intelligent lighting as they are sometimes called, are basically a type of stage lighting that is able to move due to its integrated mechanical elements, which go beyond the moving parts that are found in more traditional, non-moving lighting. Automated lighting such as moving lights is highly valued by stage lighting technicians as through them, it is possible to create highly complex special effects that simply cannot be made using standard, non-moveable lights. It should be noted however, that when it comes to intelligent lighting, the real intelligence lies with the programmer of the show, rather than the lighting equipment or any operator. Moving head lights, also called moving head luminaires, are highly versatile lighting instruments capable of performing multiple lighting functions at once. They have largely superseded the use of multiple non-moving lights to create special effects, which required many lights and a large amount of skill on behalf of the operators. Moving lights are hooked up to a lighting control console and send data to it in one of three ways '?? through an Ethernet control (a relatively new technology), analogue control (now almost obsolete), or DMX, (which is now the industry standard). So long as they have been properly programmed, the optics of wiggly lights can be altered in many ways, allowing for the '??personality'?Ě of the lights to be adapted almost instantaneously, depending on the requirements of the operator. Typically, moving lights will be pre-programmed before a production and controlled using simple commands, although some more experience operators may prefer to control them '??live'?Ě, if they have the experience to do so.
Used ColorWash 575E AT For Sale
View All

Used on corporate events. Comes with a 30 day warranty.

Quantity:
4
Year:
2006
Normal Wear & Tear
Used on various rentals.

Quantity:
12
Year:
2007
Normal Wear & Tear
Black 230V/50-60Hz. 6 month warranty.

Quantity:
8
Year:
Call for Age
Normal Wear & Tear