Buy Used GrandMA Full by MA Lighting

FOR SALE: Used Lighting Consoles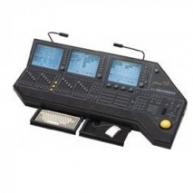 The combination of well-established
Opera
ting structures, phenomenal design and first-class quality packed with a host of fresh ideas and the la
Test
technologies grants access to enthralling new dimensions. The grandMA offers an absolutely simple - almost perfect - control of extensive light shows with lots of channels and intelligent
Moving Lights
. By no means is the grandMA any kind of substitute for one of the well - established MA boards. It rather embodies a next step in the continuous, ...
Also Known As: Used GrandMA, Used Full, Used GrandMA full-size, Used GrandMA FULL SIZE, Used GrandMA FULL SIZE
Used Lighting Consoles For Sale
View All

$3,333 USD : €2.636 EUR
Used on various rentals. From 2010.
$13,560 USD : €10.725 EUR
Diamond 4 vision package from 2004. Used as a demo unit. A very fast and reliable console!
Contact a Sales Specialist about used GrandMA Full for sale.
+1.404.817.9300
GrandMA Full Lighting Consoles
... in the continuous, future - oriented evolution towards the unlimited prospects of modern light design.
MA users will feel quite familiar with the grandMA right from the start. The basic procedures, known from the
Scancommander
, have proven to be the optimum solution for controlling intelligent
Moving Lights
- and, yes, have even become the standard for our industry. Obviously there have also been a number of changes - controlling a few hundred channels can't do without new intelligent solutions for all the individual, time-consuming
Opera
ting steps. Basically, however, the grandMA still is a typical MA control board - easy to understand but nevertheless unbelievably poweful.

MA Lighting Lighting Consoles
The company was founded in 1983 by Michael Adenau (MA) and enjoys strong growth from the very beginning until today. More than 10,000 MA control desks are being used all over the world and MA´s digital dimming systems have become an industry standard. The success accelerated in 1985, when software specialist Ernst Ebrecht joined MA Lighting as a partner. In this period MA introduced the Lightcommander 24 and Lightcommander 48 control desks. When launched in 1992 the MA Scancommander caused a huge stir in the burgeoning world of moving light control. This product established MA Lighting as a leading innovator of lighting control for the global touring and event sector. Leading producers of intelligent lighting showed great interest in MA's new operating philosophy, which radically differed from the historical "dimmer -oriented" control systems of that time. In the spring of 1998 MA showed the world the eagerly awaited grandMA console. This hybrid lighting control console brought a new level of hardware sophistication to the lighting world. The full color touch screens, motorized faders, built in UPS (uninterruptible power supply) and hard drive were only the beginning. The summer of 2000 saw the launch of a host of new products from MA, the grandMA light, the grandMA replay unit and the grandMA offline editor. In the autumn of 2001, the grandMA range will be completed with the introduction of the grandMA ultra-light. The ultra-light has 1,024 channels but retains the main features of a grandMA at a very competitive price. Today, MA Lighting are well known for their technical know-how and have achieved an unique international reputation for its operational philosophy. MA´s award-winning products are extremely reliable and offer cutting-edge solutions for dimming and control. Organizational Structure This story of success is strongly based on the teamwork between MA and Lightpower. Lightpower, located in Paderborn, is handling the international distribution of MA products since 1987. The two companies work very closely together and, through their respective roles, have made each other stronger. Production, and research & development are located in MA´s modern headquarters in Waldbuettelbrunn. For marketing, sales and technical support Lightpower has founded a new subsidiary: MA Lighting International. All of these activities are coordinated in their Paderborn facilities.
Lumen
- In physics, specifically photometry (optics), the lumen (symbol: lm) is the SI derived unit of luminous flux. It is the amount of light that falls on a unit spherical area at unit distance from a sour. Used . ce of one candela. In steradians this is equivalent to the amount of light that falls on a unit solid angle from a light source of one candela. Alternatively, one lumen is the total light pro. Used . duced by an isotropic light source of (1/4p) candelas. A 100 watt incandescent light bulb will output around 1500 lumens. ...
Moving Lights
- Moving lights or intelligent fixtures were originally implemented in 1972, but the first computer-controlled stage lighting fixtures began to gain widespread acceptance in the concert industry in the . Used . early 1980's. As the digital age progressed, the cost of these fixtures was reduced and they slowly started being used in more 'traditional' theatrical environments. Intelligent fixtures are . Used . currently used in almost all major theatrical productions.
Usually relying on compact arc lamps as a light source, these fixtures generally use stepper motors connected to varying internal devices...
Ethernet
- Ethernet (this name comes from the physical concept of ether) is a frame-based computer networking technology for local area networks (LANs). It defines wiring and signaling for the physical layer, an. Used . d frame formats and protocols for the media access control (MAC)/data link layer of the OSI model. Ethernet is mostly standardized as IEEEs 802.3. It has become the most widespread LAN techno. Used . logy in use during the 1990s to the present, and has largely replaced all other LAN standards such as token ring, FDDI, and ARCNET. ...
Monitor
- Monitor can refer to a speaker used on stage, usually in the shape of a wedge, to enable musicians to hear each other or a studio monitor that is designed for audio production in recording, film, tele. Used . vision and radio studios.. Used . ...
Stage Lighting
- Modern stage lighting is a flexible tool in the production of theatre, dance, opera and other performance arts. Several different types of lighting instruments are used in the pursuit of the various p. Used . rinciples or goals of lighting. . Used . ...
Lighting Consoles
Lighting consoles are electronic devices for controlling multiple lights simultaneously from one point. Dimmers for controlling lighting intensity, automated lighting, fog machines and hazers are some of the special effects lighting devices controlled by a lighting board or lighting desk (other terms for lighting consoles). An electronic control protocol is used by lighting consoles to communicate with other devices in the lighting system. Some of these are DMX512, ACN and DMX-512-A. New protocols are being introduced as more sophisticated lighting systems become available. In the entertainment industry, where theatrical lighting design is mostly used, lighting consoles are usually found in the control booth, auditorium or the foyer. For this application, the most common protocol is DMX512. Lighting consoles are available in different sizes and complexities. A preset board, a conventional console for basic lighting systems, is used mostly for small setups. However, DJs may complement it with more advanced hybrid consoles. A moving light controller works with dimmers for controlling ordinary lighting. It also provides additional controls for automated stage lighting (also called intelligent lighting) to produce very complex lighting effects. Other types of lighting consoles include memory consoles, personal-control based controllers, and remote focus unit. The light board operator (also called the light op or board op) is the person who operates the lighting console. Depending on the scale and type of production, he can be the lighting designer or the stage manager. He or she is responsible for conventional or automated lighting fixtures as well as controlling video.
Used GrandMA Full For Sale
View All