Buy Used J-SUB by DB Audiotechnik

FOR SALE: Used Line Array Speakers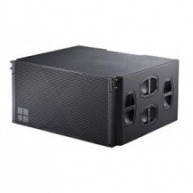 J
Subwoofer
The
J-SUB
is an actively driven 2-way bass-reflex design housing three long excursion neodymium 18" drivers, two drivers face to the front and one driver to the rear. The cardioid dispersion pattern resulting from this approach avoids unwanted energy behind the system that greatly reduces the reverberant field at low frequencies and provides the grea
Test
accuracy of low frequency reproduction.
J-SUB
cabinets can be used to supplement J8 and J12 loudspeakers in various combinations, ...
Also Known As: Used j-sub
Used Line Array Speakers For Sale
View All

$370,049 USD : €280.800 EUR
Complete X-Line package with (25) PLM-10000 (Lab Gruppen).
$3,100 USD : €2.352 EUR
From installation and kept in a clean environment.
Contact a Sales Specialist about used J-SUB for sale.
+1.404.817.9300
J-SUB Line Array Speakers
...rious combinations, ground stacked or flown, either integrated on top of a J8 / J12 array or as a separate column. The
J-SUB
cabinet is constructed from marine plywood and has an impact and weather protected PCP (Polyurea Cabinet Protection) finish. The front and rear of the loudspeaker cabinet are protected by a rigid metal grill and the side panels incorporate eight handles. Four
100 mm wheels and one EP5 or NL8 connector are mounted at the rear.

DB Audiotechnik Line Array Speakers
d&b audiotechnik has been developing, manufacturing and distributing loudspeaker systems since 1981. The company operates internationally in the field of electroacoustics to produce high quality products for reinforcement of speech and music. Through the amalgamation of technological developments, system integration principals, quality of construction and standards of service, d&b pursues a systems approach that includes all aspects of design, development, manufacture and support. d&b's loudspeakers are used globally in rental and installation markets for events, multimedia, musicals, concert halls, theatres, opera houses, broadcast and everything from the smallest conference room to the largest stadium.
Cue
- Generally, a lighting board operator has a cue sheet for each scene, which is a diagram of the board with the faders in their positions as determined by the lighting designer. The operator sets the fa. Used . ders into their positions based on the cue sheets. Typically during a cue, the operator sets the next scene. Then, the operator makes the transition between the scenes using the cross-fader.. Used . ...
Headsets and Beltpacks
- Headsets are simply headphones with an attached mic, usually a noise canceling condenser mic, used for communicating with other crew members during a show or production. Beltpacks provide power to the. Used . headset and allow it to be used remotely. . Used . ...
Motor
- A hoist is a device used for lifting or lowering a load by means of a drum or barrel around which rope or chain wraps. It may be manually operated, electrically or pneumatically driven and may use ch. Used . ain, fiber or wire rope as its lifting medium.
A hoist normally is used for lifting (near vertical) and a winch is normally used for pulling (near horizontal). . Used .
AB
- A stereo recording technique. Two microphones of the same make and model are located next to one another in , and point in the same direction. The left mic is panned hard left on the mixer. The right. Used . mic is panned hard right.
This technique has flaws, such as audio reflections from each mic which can cause comb filtering (narrow coverage). This can be somewhat corrected by s. Used . pacing the mics out, but this will not fully correct the problem and can lead to muddy sound from delay artifacts.
XLR
- A type of rugged multipin metallic connector for sound and lighting equipment generally having 3 pins for audio applications and 5 pins for DMX lighting. XLR plugs are very effective at reducing data. Used . and noise errors because a comparison is made between the signals carried by two of data cables, canceling out any differences. This relationship has given rise to the misnomer that XLR sta. Used . nds for eXternal Live Return. However, these connectors, sometimes called Cannons after the original manufacturer were originally called the Cannon X series, later versions added a Latch making the Cannon XL ...
Line Array Speakers
Line array speakers make up a loudspeaker system to create a sound source that produces an evenly distributed sound output. The driver of each line array element is close enough to the driver of the next element to create constructive interference. The resulting sound waves go farther than sound waves from traditional loudspeakers. Line array systems date back to the early days of research in acoustics. Many old town halls and public venues still have old line source boxes which were found to project voice well though they are much smaller than horn-loaded speakers. These days, line array speakers use different drivers for high-, mid- and low-frequency passbands that must be in line. Each enclosure must be set up closely to form columns composed of these drivers. To increase the frequency range and maximum sound pressure, the number of drivers per enclosure must be increased. The orientation of line array speakers may vary. Vertical arrays are excellent for focusing sound at audiences without wasting output energy on ceilings or empty air above the audience because of its very narrow vertical output with a normally-wide horizontal pattern. On the other hand, horizontal line arrays have a very narrow horizontal output with a tall vertical pattern. For hanging concert speakers which are usually part of a concert reinforcement system, enclosures are set up together using a specialized rigging hardware and they hang from a single point. These line array speakers are curved backward at the lower portion so that the sound will reach more audience.
Used J-SUB For Sale
View All