Buy Used iColor Cove MX Powercore by Color Kinetics

FOR SALE: Used LED Lighting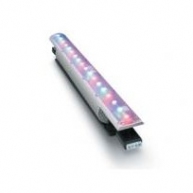 iColor Cove MX Powercore is the highest-intensity member of the iColor family of intelligent cove lights. The high-performance 12 (30.5 cm) unit features patent-pending Powercore'?Ę technology for greater
Opera
tional efficiency and simplified installation. It boasts more than double the intensity of iColor Cove, and provides uniform color mixing with maximized output to vibrantly fill alcoves and accent spaces without the constraints or complexities of conventional
Light Source
s. The compact uni...
Also Known As: Used iColor Cove MX Powercore, Used Color Cove MX
Used LED Lighting For Sale
View All

$1,863 USD : €1.467 EUR
Used on various rentals.
$911 USD : €717 EUR
All 25 dance floor tiles will cover a 1978 inches square area. All tiles are in good condition.
Contact a Sales Specialist about used iColor Cove MX Powercore for sale.
+1.404.817.9300
iColor Cove MX Powercore LED Lighting
...ces. The compact unit has a 100-degree beam angle, and its integral mounting bracket allows for simple 180-degree rotation in 10-degree increments, directing the output as desired. It receives line voltage and data from
Data Enabler
.

Color Kinetics LED Lighting
Color Kinetics Incorporated (Nasdaq: CLRK) is a pioneer in the design, marketing and licensing of intelligent solid-state lighting systems. The company's award-winning product lines combine the increasing advantages of LEDs as a light source with its patented digital control technology for use in wide-ranging applications. Its flagship technologies leverage a patented layer of digital intelligence, called Chromacore¬ģ, to generate and control millions of colors and dynamic lighting effects. Color Kinetics operates in two principal lines of business: Lighting Systems, including solid-state lighting devices, digital controllers and software for use in high-performance lighting projects; and OEM & Licensing, including a standard line of intelligent solid-state lighting modules that can be readily incorporated by other manufacturers. Color Kinetics also licenses its technology both within and beyond the lighting industry. Color Kinetics' intelligent solid-state lighting systems illuminate the exteriors of signature office buildings, add visual impact to the interiors of retail stores and residences, provide entertaining lighting effects that help attract patrons to hospitality venues, and supply versatile, high-performance lighting for television and stage sets. The company's systems have been installed in thousands of user sites around the world, including Brookstone,Carnival Cruise Lines, Cathay Financial Center, Hairspray on Broadway, Hard Rock Hotel & Casino, Harrah's, Marriott, the Metropolitan Museum of Art, New York State Bridge Authority, NBA Entertainment, Nortel Networks, Northwest Airlines, Rainforest Caf√©, Royal Caribbean International, Wheel of Fortune and Wynn Las Vegas. With the introduction of its IntelliWhite'?Ę products, Color Kinetics is now addressing specialty white light applications while working toward developing systems that meet the growing opportunity to replace conventional lighting with solid-state lighting for general illumination. Color Kinetics' investment in research and development is reflected by its intellectual property portfolio, which comprises 42 issued patents and more than 140 patent applications pending. Color Kinetics' intellectual property applies to many aspects of solid-state lighting technology, ranging from methods for digital control of lighting, to production techniques, to the application of solid-state lighting innovations in many specific markets.
Ellipsoidal Reflector Spotlight
- ERS is an acronym standing for Ellipsoidal Reflector Spotlight. These are sometimes known by their brand names, especially Leko, short for Lekolite, the name given to them by their inventors, Joseph L. Used . evy and Edward Kook. ETC's Source Four has become a very popular ERS throughout the industry, and some people use the term Source Four to refer to spotlights in general. They come in many for. Used . ms, and are the most numerous and important instrument type in use. The flexibility of the ERS allows them to fulfill the bulk of the lighting roles in the theatre, from area lighting to close specials, from l...
Followspot
- Followspot is a generic term used to describe any number of lighting instruments used to highlight performers on stage. A followspot operator moves the followspot to follow the performer or to accent. Used . some action or prop etc. Somtimes called limes, dating back to the days of limelight.
Followspots are generally much brighter than conventional lighting instruments, and often u. Used . se a lamp with a considerably higher color temperature.
LCD
- A liquid crystal display is a low power, flat, thin display device made up of color or monochrome pixels arranged in front of a light source or reflector.
. Used . . Used . ...
Analog to Digital Converter
- In electronics, an analog-to-digital converter (abbreviated ADC, A/D, or A to D) is a device that converts continuous signals to discrete digital numbers. Typically, an ADC converts a voltage to a di. Used . gital number. The digital to analog converter or DAC performs the reverse operation. . Used .
Smoke Machine
- A Smoke Machine or Fogger is an electrical device that creates clouds of artificual and hopefully non-toxic fog. The fog may come in different colors or smells and may be water or mineral based. It i. Used . s used for effects in theatre, staging, concerts and clubs.
Hazers by contrast create a more diffusive, expansive haze that is usually not a thick and is used to enhance other ef. Used . fects, such as lighting and light beams.
LED Lighting
LED lighting is a specialized kind of stage lighting which is highly valued by technicians due to its high light output and low power consumption. Used as an alternative to traditional stage lighting such as halogen lamps, LED stage lighting is a more than capable alternative for just about any kind of application, although it is primarily used for lighting cycloramas, and for side, back and top lighting. In addition to these uses, LED lighting can be used to '??blind the audience'?Ě, a nice special effect which involves briefly exposing the audience to a direct light beam from the LED stage lighting at crucial moments of the concert or show. LED wash lights are also great for applying a technique known as '??wall washing'?Ě, thanks to the high intensity of their light beam. LED wash lights can provide the full spectrum of light colors, despite usually only being fitted with green, blue and red LEDs. The operator simply needs to adjust the intensity of the various colored beams of light, manipulating them to achieve the desired color spectrum. LED lighting is provided by three pieces of equipment. The most common are LED Pars, which imitate traditional stage lights and have a number of LEDs mounted onto them. Striplights, which are basically a long length of LED wash lights, are also very common, while the versatility of moving LED lights is also becoming an increasingly preferred option for many stage lighting technicians. Besides its higher light output and lower power consumption, LED lighting has a number of other advantages. One is that they have an exceptionally high heat tolerance, which means they can be used almost anywhere without worrying about them becoming damaged due to overheating. Another advantage of LED lighting is that it has a much longer shelf life than traditional lighting.
Used iColor Cove MX Powercore For Sale
View All