Buy Used CF 7 HE x by Coemar

FOR SALE: Used Moving Lights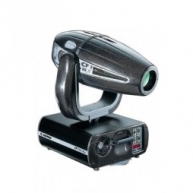 The
CF 7 HE x
is a professional moving yoke fixture, ideal for concert touring applications, large clubs and
Venue
s with high ceilings and long throw distances. Along with the la
Test
technologies incorporated within, the
CF 7 HE x
has the ability to provide variable beam from a pin spot up to a wide dispersed beam, with the powerful 700W short arc
Light Source
have instantly rocketed it to succes within the concert touring market worldwide. Made in carbon fiber and aluminium components the CF 7 ...
Also Known As: Used CF 7 HE x, Used CF 7 HE, Used cf 7
Used Moving Lights For Sale
View All

$11,308 USD : €8.909 EUR
Priced per pair including case. Used on various rentals.
$4,679 USD : €3.686 EUR
Electronic ballast. Used on an install and seller is upgrading to an LED based fixture.
Contact a Sales Specialist about used CF 7 HE x for sale.
+1.404.817.9300
CF 7 HE x Moving Lights
...components the
CF 7 HE x
has an IP20 protection rating.

Coemar Moving Lights
Founded in 1933, Coemar Spa is a developer, manufacturer, and seller of lighting products and industry innovation for entertainment, architectural, and commercial applications, guaranteeing unique professional pre-sale and post-sale services. Coemar, whose headquarters are based in Castel Goffredo (MN), Italy, has grown to over 400 employees/associates around the globe, with distribution throughout almost 70 countries. COEMAR USA (formerly Tracoman Inc.) was formed for its second run in 1999 by industry veteran GERARD COHEN, who initially struck gold with Tracoman Inc. the first time around.
Lighting Control Console
- Lighting control consoles (also called lighting boards or lighting desks) are electronic devices used in theatrical lighting design to control multiple lights at once. They are used throughout the ent. Used . ertainment industry and are normally placed at the FOH position or in a control booth. All lighting control consoles can control dimmers which, in turn, control the brightness of the lights. . Used . Many modern consoles can also control intelligent lights (lights that can move and change colors), fog machines and hazers, and other special effects devices. Consoles communicate with the dimmers and other de...
Fresnel
- Fresnels are typically 8-, 6- or 4-inch, referring to the diameter of the lens. This light is named after Augustin-Jean Fresnel who invented the distinctive Fresnel lens which has a 'stepped' appearan. Used . ce instead of the 'full' or 'smooth' appearance of other lenses. The stepped nature of the lens causes a corresponding pattern of circles of light, so Fresnel lenses are usually 'stippled' on. Used . the flat side. This pattern of small bumps helps to break up the light passing into the lens to smooth out its eventual pattern.
Fresnels use a spherical reflector, with the filament of the bulb ...
Crank Lifts
- A crank lift is used to manually lift and set a section of scaffolding into place.. Used . . Used . ...
Analog to Digital Converter
- In electronics, an analog-to-digital converter (abbreviated ADC, A/D, or A to D) is a device that converts continuous signals to discrete digital numbers. Typically, an ADC converts a voltage to a di. Used . gital number. The digital to analog converter or DAC performs the reverse operation. . Used .
Pyro
- Pyrotechnics are chemical explosive or flammable firework effects with a manual detonation, usually electrically fired by special fail safe equipment. There are many different kinds of pyrotechnics an. Used . d they are primarily used to enhance a theatrical or musical performances with flashes, smoke, loud bangs and flaming light shows. While similar to fireworks, pyrotechnics are more localized . Used . and generally smaller. ...
Moving Lights
Moving lights, or intelligent lighting as they are sometimes called, are basically a type of stage lighting that is able to move due to its integrated mechanical elements, which go beyond the moving parts that are found in more traditional, non-moving lighting. Automated lighting such as moving lights is highly valued by stage lighting technicians as through them, it is possible to create highly complex special effects that simply cannot be made using standard, non-moveable lights. It should be noted however, that when it comes to intelligent lighting, the real intelligence lies with the programmer of the show, rather than the lighting equipment or any operator. Moving head lights, also called moving head luminaires, are highly versatile lighting instruments capable of performing multiple lighting functions at once. They have largely superseded the use of multiple non-moving lights to create special effects, which required many lights and a large amount of skill on behalf of the operators. Moving lights are hooked up to a lighting control console and send data to it in one of three ways '?? through an Ethernet control (a relatively new technology), analogue control (now almost obsolete), or DMX, (which is now the industry standard). So long as they have been properly programmed, the optics of wiggly lights can be altered in many ways, allowing for the '??personality'?Ě of the lights to be adapted almost instantaneously, depending on the requirements of the operator. Typically, moving lights will be pre-programmed before a production and controlled using simple commands, although some more experience operators may prefer to control them '??live'?Ě, if they have the experience to do so.
Used CF 7 HE x For Sale
View All

Used on various rentals. Comes with a single case.

Quantity:
10
Year:
2001
Normal Wear & Tear
In great working order. Used on various rentals.

Quantity:
96
Year:
2000
Normal Wear & Tear
In mint condition. Come with a single case.

Quantity:
14
Year:
2006
Normal Wear & Tear