Buy Used FCS 960 by BBS Audio

FOR SALE: Used Equalizers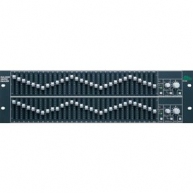 The
FCS-960
is a 30-band graphic equaliser featuring Dual Mode switching between Normal and Fine filter width settings on each channel. The
FCS-960
provides two channels in 3U of rack space. Constant Q-filters with filter-bypass centre taps are controlled by high grade, 45m
M Fader
s with moulded polymer fader knobs which eliminate visual parallax error even under low light conditions. Also included are sweepable/switchable Hi-pass filter, Gain control and electronic balanced inputs and outp...
Also Known As: Used fcs, Used fcs 960
Used Equalizers For Sale
View All

$621 USD : €487 EUR
TC Electronics TC1128 digital EQ. Used on various tours. 110VAC.
$5,589 USD : €4.387 EUR
This TC Electronic EQ Station with Motofader is an 8-Channel (Analog In & Out) Unit.
Contact a Sales Specialist about used FCS 960 for sale.
+1.404.817.9300
FCS 960 Equalizers
...nced inputs and outputs.

BBS Audio Equalizers
Aircraft Landing Light
- A narrow beam PAR lamp (28 volt) that is used on aircraft and often adopted for PAR64 and PAR46 lamps. They are most commonly 4 lamps wired in series to attain the required voltage of the circuit as . Used . close to 120 volts. ACL lamps have a higher intensity, brightness and color temperature than the standard PAR lamp.
ACL lamps are more expensive than standard PARs and have a sho. Used . rter life.
Video
- Video is the technology of electromagnetically recording, processing, transmitting, and reconstructing a sequence of images that represent scenes in motion.
. Used . . Used . ...
Auxiliary Output
- A seperate line level output from a sound console that is to be used for foldback or monitoring that does not use up another main output. Each in channel has a path to the Auxiliary bus. It is also . Used . useful to send a signal to a separate effects processor.
. Used . ...
Intelligent Fixtures
- Intelligent Fixtures or Moving Lights were originally implemented in 1972, but the first computer-controlled stage lighting fixtures began to gain widespread acceptance in the concert industry in the . Used . early 1980's. As the digital age progressed, the cost of these fixtures was reduced and they slowly started being used in more 'traditional' theatrical environments. Intelligent fixtures are . Used . currently used in almost all major theatrical productions.
Usually relying on compact arc lamps as a light source, these fixtures generally use stepper motors connected to varying internal devices...
Cyc Light
- Cyc lights, also known as strip lights are long housings typically containing multiple lamps arranged along the length of the instrument and emitting light perpendicular to its length. Lamps are often. Used . covered with individual gels of multiple colors (somet . Used . ...
Equalizers
Equalizers are used in sound recording to equalize the balance between an electronic signalâ??s frequency components, by boosting or cutting the energy of specified frequency bands. Audio equalization is most widely used in sound recording, although it has many other applications beside that of the recording studio. There are a number of different types of Equalizers used in music recording. For example, a simple bass control (or low shelf), is able to adjust the gain of low frequency audio signals, without impacting on other frequencies. High self Equalizers (like a treble) on the other hand, are used to adjust high frequency audio signals only. Parametric Equalizers offers a far greater range of audio equalization functions however. These types of Equalizers are able to make three specific adjustments, something that makes them incredibly versatile. They can be used first of all to adjust the center frequency, and then they can be used to adjust the Q Factor in order to determine how sharp the bandwidth is. Finally, they can also be used to adjust the gain control in order to determine how much a frequency is boosted or cut in relation to frequencies above or below the selected center frequency range. A Graphic Dynamic Equalizer is similar to a Parametric Equalizer, except that these Equalizers are designed to be much more user-friendly. However, they are also less flexible than Parametric Equalizers. Graphic Equalizers employ a bank of filters to cover as many as 30 different frequency bands in the audio spectrum, depending on the model. The center frequency and Q Factor on Graphic Equalizers is fixed, but the level of these can be adjusted.
Used FCS 960 For Sale
View All

From various rentals. Cleaned and tested.

Quantity:
21
Year:
1997
Normal Wear & Tear
Used on various rentals.

Quantity:
5
Year:
2007
Excellent / Few Scratches
Used on a few various rentals. 30 day warranty. From 2008.

Quantity:
4
Year:
2008
Excellent / Few Scratches