Buy Used Comet by Altman

FOR SALE: Used Follow Spots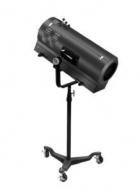 A ruggedly constructed medium to long throw follow spot, the
Comet
produces a narrow, hard or soft edged beam which zooms from 2.3 degrees to 12.2 degrees. With top mounted iris, shutter, and dimmer control handles, this easy to use follow spot is designed to use the unique high performance FLE, ENX and FXL quartz halogen lamps. The
Comet
can be used in any application where manual control of a lighting beam is required to follow a performer and to vary beam size, quality and color.
Also Known As: Used Comet, Used come
Used Follow Spots For Sale
View All

$1,997 USD : €1.515 EUR
Super Trouper Xenon 2000 with case, stand and PSU.
$2,981 USD : €2.330 EUR
Used on various rentals. Comes cased.
Contact a Sales Specialist about used Comet for sale.
+1.404.817.9300
Comet Follow Spots
... color.

Altman Follow Spots
Altmanâ?¦. A name that stands for quality, durability, pride, and excellenceâ?¦. a name synonymous with tradition, dedication, and design innovationâ?¦ a family name. For over fifty years the Altman name has stood true as one of the leading innovators of theatrical, architectural, and film and video lighting available on the market today. Charles Altman, the patriarch and founder, whose spirit is still alive in the company today, founded the company based on the ideals of a top quality product available at an affordable price. Ronald Altman, whose memory still inspires loyalty and will always live on as the company grows. Robert Altman, a son who boldly leads the company into the 21st century with state of the art innovations and high quality product with his father Charlie's philosophy still in mind. Randall Altman, a grandson, who is stride by stride with Robert maintaining family pride in excellence. As the generations continue through the constant pursuit of excellence, these individuals as well as other family members and complete staff of employees (who are all treated as family members) strive to keep the family philosophy alive with customer satisfaction, personal service, and a quality product that has proved to last through the test of time.
Truss
- A truss is a static structure consisting of straight slender members interconnected at joints into triangular units used for spanning or bracing structural elements.. Used . . Used . ...
Wing
- A breakout box or extension console that expands the current consoles capabilities by adding additional tactile faders and controls. Generally applied to lighting control consoles and adapted from a . Used . theater term used to describe the sides of the stage not visible to the audience where the actors make their entrances. . Used . ...
Lens
- A lens is a device for either concentrating or diverging light, usually formed from a piece of shaped glass. Analogous devices used with other types of electromagnetic radiation are also called lense. Used . s: for instance, a microwave lens can be made from paraffin wax.
The earliest records of lenses date to Ancient Greece, with Aristophanes' play The Clouds (424 BC) mentioning a b. Used . urning-glass (a convex lens used to focus the sun's rays to produce fire). The writings of Pliny the Elder (23-79) also show that burning-glasses were known to the Roman Empire, and mentions what is possibly t
Zone System
- A unique method introduced by photographers Ansel Adams and Fred Archer around 1940 for determining the best exposure and correct development for an individual photograph by way of analysiing the subj. Used . ects luminosities in terms of ten gray tones or "zones" labled 0 to IX or zero to nine and visualizing them as print densities. The zone system gives photographers a systematic method for ac. Used . curately identifing the relationship between the way they see the photographic subject and the results they achieve in their finished works....
Color gel
- Color gel is a translucent or transparent coloured material that is used in theatre to colour light. Modern gels are usually made of polycarbonate or polyester, but the name arose from the gelatin ori. Used . ginally used. See gel (theater).
Gels are also used in photography and cinematography for the purpose of color correction, and in this capacity are usually called color filters.<. Used . br />
Similar colors may vary between different companies' formulations - for instance, they all have a color named 'bastard amber', yet Rosco's bastard amber is different from Lee's is different from G...
Follow Spots
Follow Spots are used in stage lighting in order to project an intense beam of light onto the stage. Often called spot lights, follow spots are usually controlled manually during live performances, by a follow spot operator whose job it is to follow the movements of performers on the stage. Follow spots are used in almost all stage productions and concerts, when it is necessary to highlight one or more individuals at specific times during the show. High-intensity discharge lamps are the preferred light source for most follow spots, although others can be used. To change the color of the spot light that is directed onto the stage, follow spots operators use something known as a color magazine, which is fitted to the follow spot and contains a number of different colored gels. The arrangement of follow spots varies according to the venue. Some venues have follow spots installed on the catwalk, or otherwise in the main control booth or special spot booths. During concerts, the follow spots are often mounted on trusses. These spot booths are installed in strategic places, to the sides, or at the rear of the stage, depending on the coverage requirements, and also other considerations, such as the architecture of the venue.
Used Comet For Sale
View All