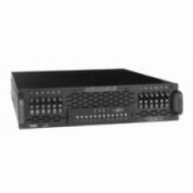 The Comstar Genesis 1224 is a rugged, heavy duty 20-Amp per channel Dimmer. It utilizes SSR modules for dimming and will carry 2400 watts per channel. Hot patching, overloading or miswiring of the power feeds should cause no functional damage. This 12 channel unit can be wired for single or three phase input power at 50 or 60 Hz, and can be used on 120 or 240 volt power grids. Input power phase switching is simple and the unit may be mounted in a standard 24 inch equipment rack, if desired.
Typical uses for the Genesis line are locations where ruggedness is important and downtime is unacceptable. Any use where the personnel using the products are inexperienced and where load and power input connections could be miswired calls for Genesis dimmers. Broadcast Television, Cable Studios, Theaters, Schools, Night Clubs, and Touring Companies should all use these heavy duty dimmers in any critical application where the best is required.

The Genesis 1224 is equipped with many standard deluxe features to make life easier for the user:

Each channel has an On/Off override switch which illuminates to mimic the control signal
Every Dimmer has a thermal magnetic circuit breaker with a 10,000 AIC interrupting capacity
Prominent LEDs are provided on the front panel to indicate the presence of each power phase, as well as to warn of an overtemperature condition
Any number of channels may be set to snap on as Non-dims by adjustments located on the Comstar control card
Servicing of all control electronics is easily accessible through the front removable electronics drawer. In addition the unit is cooled for longer life by a quiet, low-speed fan.
The Comstar Genesis 1224 accepts a 0-10 volt DC analog control signal simultaneously with either AMX 192 or DMX 512. This allows a backup console or stage manager's console to be on line at all times.

The Comstar Genesis 1224 is ruggedly built of steel and aluminum, finished in a brushed black anodize with white nomenclature. All servicing of the unit can be achieved without soldering, using only a phillips screwdriver and pliers. A high degree of noise filtering is provided by a toroidal-CORE filter choke on each channel.

Customized systems using the Comstar Genesis 1224 as a component are available. Contact Teatronics Lighting Controls or your local distributor for more information on a system to meet your exact lighting needs.
Teatronics
Teatronics sells and services the entire Teatronics product line. With over 25 years of successful brand recognition for high quality and reliable equipment. The product line covers a wide variety of dimming/control requirements and applications. Our client list includes churches, hotels, performing arts centers, schools, and professional theatres. Teatronics can meet all of your lighting requirements from small to large applications.
Used Dimmer Racks
Dimmer racks are a specialist device used to control the brightness level of lighting fixtures. Also known as dimmers, these light dimming systems adjust brightness by increasing or decreasing the voltage to the light, affecting how much actual power the lamp receives. By doing this, the light outputâ??s intensity can be adjusted. Dimmer racks are often used in theatres and concert venues (where they are known as a touring dimmer rack), and specifically controls halogen, resistive incandescent and compact fluorescent lights. For dimming mercury vapor, solid state, fluorescent and other specialist types of lighting, more specialized equipment than a dimmer rack module is needed. There are several different types of dimmer racks available, starting with the smaller light switch size boxes that are used in homes, all the way up to large consoles which are used in concert venues, theater etc. Such professional dimmer racks are too large to be controlled directly like the ones at home, and so a DMX or DALI control system is used instead. When dimmer racks used in professional situations, changing the intensity or dimming the lights is known as â??fading upâ? or â??fading downâ?. Itâ??s recommended that lights are not â??fadedâ?? too quickly, as doing so can damage the life expectancy of the lamp in question, although this is less of an issue with more advanced dimmer rack module units.